'Irony's Dead': Trump Triggers Avalanche Of Mockery After Accusing Dems Of Not Believing In Science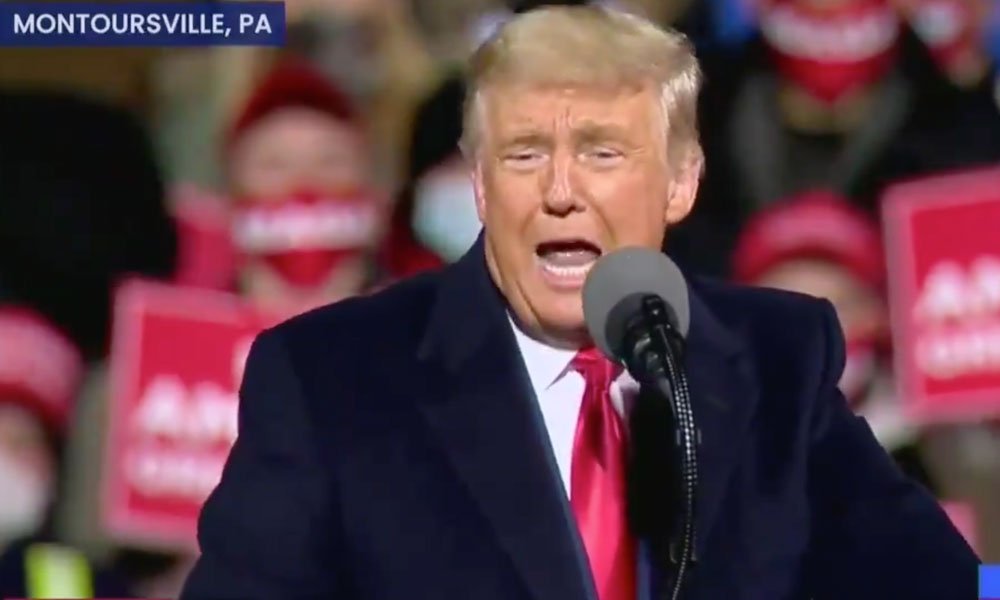 Social media users are mocking Donald Trump after the president accused his Democratic opponent of "not believing in science" during a campaign rally in Montoursville, Pennsylvania on Saturday.
Trump began his speech by After praising himself for turning out a crowd during a pandemic. "Wow, good crowd. This is a hell of a crowd," he said.
He then began repeating the same lie-filled attacks on former Vice President Joe Biden that have become part of his routine.
He cheered his supporters who almost ran a Biden bus off the road in Texas. He also showed a montage of Sean Hannity clips and claimed Joe Biden is actually Kamala Harris in costume.
But he really raised eyebrows when he argued it is his opponents, not himself, that rejects science.
As expected, social media users wasted no time to respond:
Trump just murdered irony pic.twitter.com/xUtmiFHAXI

— Aaron Rupar (@atrupar) November 1, 2020
Trump is now gloating about his supporters surrounding a Biden campaign bus on the highway

"Anybody see the picture of their crazy bus driving down the highway, they are surrounded by hundreds of cars, they are all Trump flags."

"It's like a hot thing."

— Will Steakin (@wsteaks) November 1, 2020
Trumps big closing argument is showing a montage of Sean Hannity clips during a rally.

— Deren Ney (@DerenNey) November 1, 2020
Speaking of trick or treating – it appears Mark Meadows is handing out candy to some young kids who skipped out on costumes and candy in favor of the Trump rally on this Halloween night.

— Maura Barrett (@MauraBarrettNBC) November 1, 2020
"Under Biden, there will no be no school, no graduations, no weddings, no Thanksgivings, no Easters, no Christmases, and no Fourth of July."

— Trump, at a rally in Pennsylvania, on Halloween, as children across the country weren't trick-or-treating because of the coronavirus

— ryan teague beckwith (@ryanbeckwith) November 1, 2020
"I wonder what happens during that period of delays w/ the ballots. I wonder what happens. Are they going to mysteriously find more ballots?…report whatever you see"- Trump tosses out baseless conspiracy theories that any ballots tallied after election night could be forgeries pic.twitter.com/UaXWfIRzJl

— Aaron Rupar (@atrupar) November 1, 2020
Obama going after Trump in MI: "He's still worrying about his inauguration crowd being smaller than mine…He's still talking about that. Does he have nothing better to worry about? Did no one come to his birthday party when he was a kid? Was he traumatized? What's with crowds?"

— Yamiche Alcindor (@Yamiche) October 31, 2020