In Effort To Score Political Points On Biden, Republicans Inadvertently Bring Into Focus 25 Women Who Accused Trump Of Sexual Assault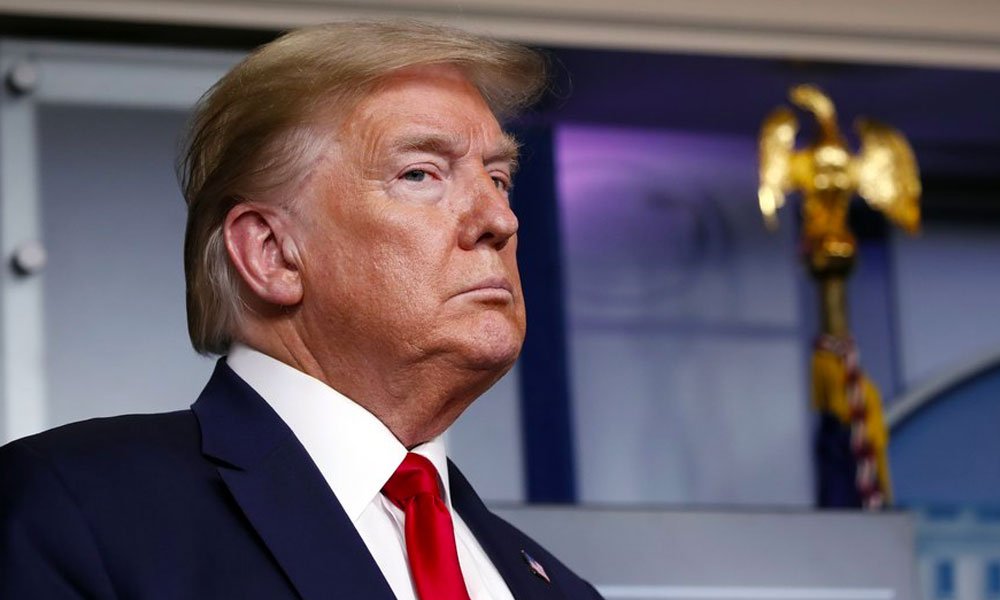 As Republicans try to find a way to capitalize on the sexual misconduct allegation against Joe Biden, their effort to score political points has inadvertently renewed attention to the sexual misconduct allegations that at least 25 women have made against Donald Trump.
Despite being caught on tape admitting in infamous the "Access Hollywood" boasting about grabbing women's genitals in 2005,Trump has denied the allegations, which include ogling, harassment, groping, and rape, calling them "politically motivated fabrications" accounts pushed by the media and his political opponents. He promised to sue all of his accusers, and suggested that he didn't engage in alleged behavior with certain women because they weren't attractive enough for him to be interested in.
"Every woman lied when they came forward to hurt my campaign," Trump said during a 2016 rally. "Total fabrication. The events never happened. Never. All of these liars will be sued after the election is over."
Trump said these "false allegations" against him were made by "women who got paid a lot of money to make up stories about me." And then alleged that the "mainstream media" refused to report on evidence that the accusations were made up.
The White House then claimed that Trump's election proves the American people don't care about the allegations.
"The people of this country, at a decisive election, supported President Trump, and we feel like these allegations have been answered through that process," White House press secretary Sarah Huckabee Sanders told reporters in December 2017, after several of the president's accusers appeared on national television to rehash their allegations.
However, Republicans fear that the allegation will come back to haunt Trump and bring down the entire party with him in November.
Here are all of the allegations — in chronological order — made by 25 named women against Trump, compiled by Business Insider.
Jessica Leeds told the New York Times in October 2016 that Trump reached his hand up her skirt and groped her while seated next to her on a flight in the late 1970s.
"He was like an octopus. His hands were everywhere," Leeds said, adding that she fled to the back of the plane.
During an interview on NBC News' "Megyn Kelly Today" in December, Leeds added that she was at a gala in New York three years after the incident on the plane when she ran into Trump, who recognized her and called her a c—.
"He called me the worst name ever," she said. "It was shocking. It was like a bucket of cold water being thrown over me."
Trump denied the allegations and during a rally in October 2016, suggested that Leeds wasn't attractive enough for him to assault. "People that are willing to say, 'Oh, I was with Donald Trump in 1980, I was sitting with him on an airplane, and he went after me,'" Trump said. "Believe me, she would not be my first choice."
Ivana Trump, his first wife and the mother of his three eldest children, accused her then-husband of raping her in a fit of rage in 1989.
Ivana said Trump attacked her after he underwent a painful "scalp reduction" procedure done by a doctor she had recommended, tearing her clothes and yanking out a chunk of her hair.
"Then he jams his penis inside her for the first time in more than 16 months. Ivana is terrified … It is a violent assault," Harry Hurt III, who obtained a copy of the deposition, wrote in a 1993 book about Trump. "According to versions she repeats to some of her closest confidantes, 'he raped me.'"
Trump called Hurt's description of Ivana's allegation "obviously false" in 1993, according to Newsday. Trump's lawyer, Michael Cohen, argued in 2015 that his client could not have raped Ivana because "you cannot rape your spouse."
Kristin Anderson, a photographer and former model said Trump reached under her skirt and touched her vagina through her underwear at a New York City nightclub in the early 1990s.
"So, the person on my right who, unbeknownst to me at that time was Donald Trump, put their hand up my skirt. He did touch my vagina through my underwear, absolutely. And as I pushed the hand away and I got up and I turned around and I see these eyebrows, very distinct eyebrows, of Donald Trump," she told The Washington Post in October 2016.
Trump Trump dismissed the allegations as "phony" and accuse Anderson of looking to get some free publicity."
Jill Harth, a businesswoman who worked with Trump in the 1990s, told the Guardian in July 2016 that Trump pushed her against a wall, put his hand up her skirt, and tried to kiss her at a dinner at his Mar-a-Lago resort in the early 1990s.
"He was relentless," she told the New York Times. "I didn't know how to handle it. I would go away from him and say I have to go to the restroom. It was the escape route."
Harth sued Trump in 1997 both for sexual harassment and for failing to uphold his end of a business deal with Harth and her then-partner.
Trump denied each and every statement made by Ms. Harth.
Lisa Boyne, a health food business entrepreneur, told HuffPost in October 2016 that she attended a 1996 dinner with Trump and modeling agent John Casablancas during which several other women in attendance were forced to walk across a table in order to leave.
As the women walked on the table, Boyne says that Trump looked up their skirts and commented on their underwear and genitals. Trump allegedly asked Boyne for her opinion on which of the women he should sleep with.
Trump claimed he "never heard of this woman and would never do that."
Mariah Billado and Victoria Hughes, Two Miss Teen USA contestants told BuzzFeed News in October 2016 that Trump walked in on them while they were changing in their dressing rooms.
"I remember putting on my dress really quick because I was like, 'Oh my god, there's a man in here,'" Mariah Billado, who represented Vermont in 1997, told BuzzFeed. Billado added that Trump said something along the lines of, "Don't worry, ladies, I've seen it all before."
Victoria Hughes, a former Miss New Mexico, said Trump first introduced himself to the teenage contestants when he unexpectedly walked into their dressing room. "It was certainly the most inappropriate time to meet us all for the first time," she told BuzzFeed.
Trump appeared to admit to this behavior when he boasted in an April 2005 interview with radio host Howard Stern that he regularly walked into contestants' dressing rooms on the beauty pageants he owned while women were unclothed.
"I'll go backstage before a show and everyone's getting dressed and ready and everything else. And you know, no men are anywhere. And I'm allowed to go in because I'm the owner of the pageant," he said. "You know they're standing there with no clothes. And you see these incredible-looking women. And so I sort of get away with things like that."
In October 2016, the Trump campaign called the allegations politically motivated lies.
"These accusations have no merit and have already been disproven by many other individuals who were present," the campaign said in a statement. "When you see questionable attacks like this magically put out there in the final month of a presidential campaign, you have to ask yourself what the political motivations are and why the media is pushing it."
Temple Taggart, a former Miss Utah, told the New York Times in May 2016 that Trump "kissed me directly on the lips" when she met him at the Miss USA pageant in 1997. Trump did the same thing when Taggart met with him again at Trump Tower in Manhattan after he offered to aid her modeling career, she said.
In November 2017, Taggart spoke out again, telling the Times that the allegations against Trump were "brushed under the rug."
Trump's response: "I don't even know who she is," Trump told NBC News in October 2016. "She claims this took place in a public area. I never kissed her. I emphatically deny this ridiculous claim."
Cathy Heller told the Guardian in October 2016 that she was attending a Mother's Day brunch with her husband, children, and in-laws at Mar-a-Lago in the 1990s when Trump approached her table, introduced himself to her, and forcibly kissed her.
"He took my hand, and grabbed me, and went for the lips," she said, and added that she was "angry and shaken" as a result of the incident.
Trump denied the allegations saying "there is no way that something like this would have happened in a public place on Mother's Day at his resort." J
Karena Virginia, a yoga instructor and life coach, told the Washington Post in October 2016 that Trump groped her as she waited for her car outside the US Open in New York in 1998.
Virginia, then 27, said she overheard Trump talking with a group of men about her legs and that Trump then approached her, grabbed her arm, and touched her breast before asking, "Don't you know who I am?"
Trump's response: "Voters are tired of these circus like antics and reject these fictional stories and the clear efforts to benefit Hillary Clinton."
Tasha Dixon and Bridget Sullivan, Two Miss USA contestants said Trump walked into their dressing rooms, where female participants were changing, and ogled them.
Tasha Dixon, a former Miss Arizona who competed in the 2001 Miss USA pageant, told CBS in October 2016 that Trump walked into the contestants' dressing room while they were changing.
"He just came strolling right in," Dixon said. "There was no second to put a robe on or any sort of clothing or anything. Some girls were topless, other girls were naked."
She added, "To have the owner come waltzing in when we're naked or half naked in a very physically vulnerable position, and then to have the pressure of the people that work for him telling us to go fawn all over him, go walk up to him, talk to him."
Dixon said there was "no one to complain to" because Trump owned the pageant and everyone employed there reported to him.
Bridget Sullivan, Miss New Hampshire in 2000, told BuzzFeed News in May 2016 that Trump walked into the contestants' dressing room unannounced and hugged her inappropriately.
"The time that he walked through the dressing rooms was really shocking. We were all naked," Sullivan said, comparing Trump to a "creepy uncle." "He'd hug you just a little low on your back."
Trump's response: "When you see questionable attacks like this magically put out there in the final month of a presidential campaign, you have to ask yourself what the political motivations are and why the media is pushing it."
Melinda "Mindy" McGillivray told the Palm Beach Post in October 2016 that Trump grabbed her buttocks while they were backstage during a Ray Charles concert at Mar-a-Lago in 2003.
Ken Davidoff, a photographer present at the concert, said McGillivray, then 23, approached him soon after the incident and said, "Donald just grabbed my a–!"
McGillivray spoke out again on "Megyn Kelly Today" in December, calling for a congressional investigation into the accusations of sexual misconduct against Trump.
"He has to face the music; he can't get away with this," McGillivray said. "I want justice."
Trump's response: "The timing and absurdity of these false claims speaks volumes and the publicity tour that has begun only further confirms the political motives behind them," White House press secretary Sanders said after the TV appearance in December.
Natasha Stoynoff, a People magazine reporter, wrote in an October 2016 column that Trump sexually assaulted her in 2005 at Mar-a-Lago. Stoynoff was visiting Trump and his new wife, Melania, at their Florida estate to report on a story about the couple's first year of marriage.
While a pregnant Melania was changing clothes for a photoshoot, Trump offered to show Stoynoff a "tremendous" room at the resort.
"We walked into that room alone, and Trump shut the door behind us. I turned around, and within seconds he was pushing me against the wall and forcing his tongue down my throat," Stoynoff wrote.
She added that Trump told her they would have a sexual affair. "Have you ever been to Peter Luger's for steaks? I'll take you. We're going to have an affair, I'm telling you," he allegedly said.
Trump denied the allegations, tweeting last year, "Why didn't the writer of the twelve year old article in People Magazine mention the 'incident' in her story. Because it did not happen!"
Jennifer Murphy and Juliet Huddy, Two women have said Trump kissed them without their consent, but that they weren't offended by it at the time.
Juliet Huddy, a former Fox News anchor, said on the "Mornin!!! With Bill Schulz" podcast in December 2017 that Trump kissed her on the lips without her consent after a meeting in Trump Tower in Manhattan in 2005 or 2006.
"He went to say goodbye and he, rather than kiss me on the cheek, he leaned in on the lips," she said. Huddy added that she was surprised by the kiss, but "didn't feel threatened" or "offended" at the time.
"Now that I've matured, I would've said, 'Nope.' At that time, I was making excuses," she said in December.
Jennifer Murphy, a former contestant both in Miss USA and Trump's reality TV show "The Apprentice," told Grazia magazine in December 2016 that Trump kissed her unexpectedly following a job interview in Trump Tower in 2005.
Rachel Crooks told the New York Times in October 2016 that Trump kissed her on the mouth without her consent when she introduced herself him in 2005 Trump Tower in Manhattan, where she worked as a receptionist. She said that she and Trump shook hands and then he kissed her "directly on the mouth."
Trump denied Crooks' account in an interview with the New York Times in October 2016. "None of this ever took place," he said, threatening to sue the Times if it reported on the allegations.
Samantha Holvey, a contestant in the 2006 Miss USA pageant, which Trump owned, told CNN in October 2016 that Trump personally inspected each of the pageant contestants individually.
"He would step in front of each girl and look you over from head to toe like we were just meat, we were just sexual objects, that we were not people," Holvey said, adding that it made her feel "the dirtiest I felt in my entire life."
Holvey also called for a congressional investigation into Trump's alleged misconduct.
Trump did not respond to a CNN requests for comment, but denied all of the sexual misconduct accusations made against him.
Ninni Laaksonen, a model and former Miss Finland, told Finnish newspaper Ilta-Sanomat in October 2016 that Trump groped her backstage at the "Late Show with David Letterman" in 2006.
"Trump stood right next to me and suddenly he squeezed my butt," Laaksonen said. "He really grabbed my butt. I don't think anybody saw it, but I flinched and thought, 'What is happening?'"
Trump broadly denied all of the sexual misconduct accusations made against him.
Jessica Drake. At an October 2016 press conference, adult-film actress Jessica Drake accused Trump of grabbing and kissing her without permission and offering her money to accept a private invitation to his penthouse hotel room in Lake Tahoe in 2006.
"This is not acceptable behavior for anyone, much less a presidential candidate," Drake said. "I understand that I may be called a liar or an opportunist, but I will risk that in order to stand in solidarity with women who share similar accounts that span many, many years."
Trump dismissed Drake's accusations as "total fiction" and implied that Drake was accustomed to being "grabbed" because she is a porn actress.
Summer Zervos, a former contestant on NBC's "The Apprentice," told reporters at an October 2016 press conference that Trump assaulted her during a 2007 meeting at The Beverly Hills Hotel.
"He then grabbed my shoulder and began kissing me again very aggressively and placed his hand on my breast," she said. "I pulled back and walked to another part of the room. He then walked up, grabbed my hand, and pulled me into the bedroom. I walked out." Zervos added that Trump thrust himself on her before she left the room.
Zervos sued Trump for defamation after he accused her of lying about the allegations. Trump's attorneys have moved to dismiss the case, arguing that, as president, he can't be sued in state court and that his remarks about his accusers are political speech. The suit is ongoing.
Trump's response: "I vaguely remember Ms. Zervos as one of the many contestants on 'The Apprentice' over the years," Trump said in a statement. "To be clear, I never met her at a hotel or greeted her inappropriately a decade ago. That is not who I am as a person, and it is not how I've conducted my life. In fact, Ms. Zervos continued to contact me for help, emailing my office on April 14 of this year asking that I visit her restaurant in California."
Cassandra Searles, who represented the state of Washington at the 2013 Miss USA pageant, wrote in a June 2016 Facebook post that Trump treated herself and other female Miss USA contestants "like cattle" and had them "lined up so he could get a closer look at his property."
"He probably doesn't want me telling the story about that time he continually grabbed my ass and invited me to his hotel room," she added.
Trump has not specifically denied Searles' allegations, but he has broadly denied all of the sexual misconduct accusations made against him.
Alva Johnson, a former Trump campaign staffer, said that Trump kissed her without her consent at a Tampa, Florida rally on August 24, 2016.
Johnson, 43, said Trump grabbed her hand and kissed her on the side of her mouth as he exited an RV outside of the rally, according to details in a new federal lawsuit and an interview with the Washington Post. She filed a federal lawsuit against Trump in February.
Trump's response: "This accusation is absurd on its face. This never happened and is directly contradicted by multiple highly credible eye witness accounts."
E. Jean Carroll, a former Elle advice columnist, accused President Donald Trump of sexually assaulting her by pinning her against the wall and forcing his penis inside of her in a department store dressing room the mid-1990s.
"The moment the dressing-room door is closed, he lunges at me, pushes me against the wall, hitting my head quite badly, and puts his mouth against my lips," Carroll wrote in an excerpt of her 2019 book,"What Do We Need Men For?".
She went on, "The next moment, still wearing correct business attire, shirt, tie, suit jacket, overcoat, he opens the overcoat, unzips his pants, and, forcing his fingers around my private area, thrusts his penis halfway — or completely, I'm not certain — inside me. It turns into a colossal struggle."
Trump's response: "This is a completely false and unrealistic story surfacing 25 years after allegedly taking place and was created simply to make the President look bad."
Karen Johnson, a regular at Trump's Mar-a-Lago resort in Florida, said Trump pulled her behind a tapestry and kissed and groped her without her consent during a New Year's Eve party there in the early 2000s.
"I'm a tall girl and I had six-inch heels on, and I still remember looking up at him. And he's strong, and he just kissed me," Johnson said. "I was so scared because of who he was … I don't even know where it came from. I didn't have a say in the matter."
Johnson said Trump forcibly grabbed her genitals.
"When he says that thing, 'Grab them in the pussy,' that hits me hard because when he grabbed me and pulled me into the tapestry, that's where he grabbed me," she said, according to the book excerpt.
Johnson said Trump called her repeatedly after the incident, offering to fly her to New York to visit him. She said she refused his advances and never saw him again or visited Mar-a-Lago, where she'd had her wedding reception years earlier.
Trump's response: The White House denied the allegation and slammed "All the President's Women."
This list was first reported by Business Insider.