'He's Not Well': Trump Brain Hits Wall Of Confusion During Fox News Interview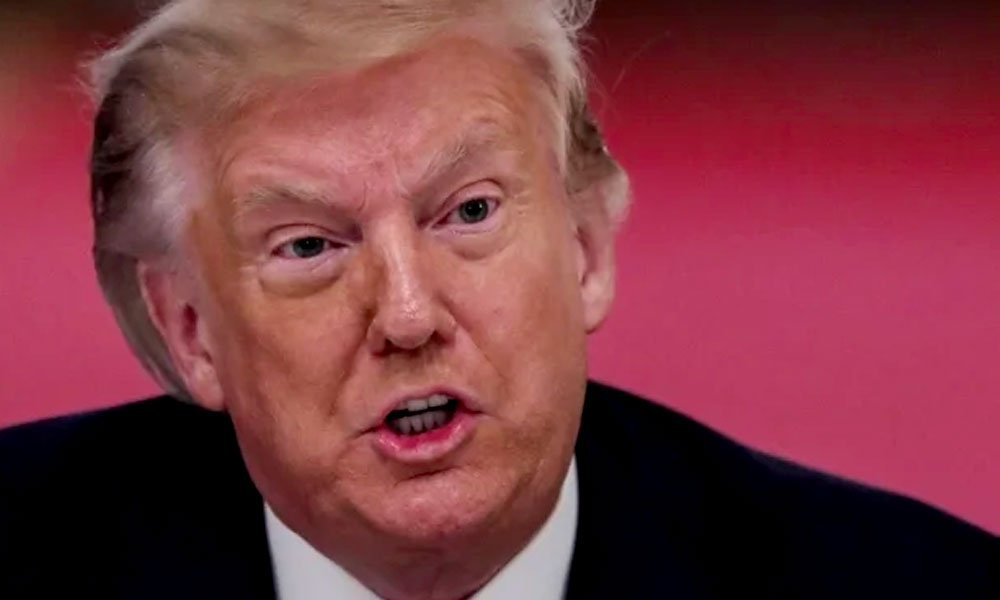 Former President Donald Trump had an interview with Fox News host Sean Hannity on Thursday night and seemed to show some mental decline.
During the interview, Trump appeared to confuse a completely metaphorical wall with his actual border wall as Hannity criticized president Biden's performance in office.
"So, you keep banging your head against the wall — why would you expect a different result?" Hannity said in reference to Biden.
"So, we would have had the wall completed in three weeks. It was largely completed. We did almost 500 miles of wall," Trump replied.
Trump's confusion didn't go unnoticed as critics took to social media to point out the irony that he also bragged about once "acing" a cognitive test during the same interivew.
Check the clip and reactions from Twitter below.
Here's the video of this 🤣 pic.twitter.com/xf9sSjtqGa https://t.co/wAO42iyROJ

— Aaron Rupar (@atrupar) January 21, 2022
The pause while the word "wall" oscillates through various layers of jello brain before finding a stray synapse and triggering the canned response https://t.co/0dzPWl6sw6

— Kevin Gannon (@TheTattooedProf) January 21, 2022
Dear Lord. The man's brain is a pile of garden mulch and rat poop. https://t.co/1SrT30OeMq

— Gary Legum (@GaryLegum) January 21, 2022
You'll be shocked — shocked! — to learn that Hannity ran out of time before he could ask Trump about his text messages or the January 6 committee's investigation. https://t.co/laVYolCgsp

— Aaron Rupar (@atrupar) January 21, 2022
Trump's interview on Hannity proved one thing — he hasn't refreshed his material *at all* in the year he's been out of office. Dude is still talking about windmills and bragging about acing a dementia test.

— Aaron Rupar (@atrupar) January 21, 2022
Were they talking about the wall before that?

Or did Trump just hear Sean say the word "wall" and that triggered him to randomly say that?

— BobbyC (@YeahMyBad) January 21, 2022
Lol. Man person TV camera… Wall? 😂 #TrumpIsALaughingStock https://t.co/tSd2fRQMEt

— Consultant 😷🇺🇸 (@Lipstay) January 21, 2022
Team Hannity: Well there's no way he can whiff on this softball

oh for fucks sake

— Dad Jokes Panda (@TrashPandaFTW) January 21, 2022
All trump heard was "wall". what a moron! Hahahahahahahahahahahahaha

— John S. (@johnspav64) January 21, 2022
— jamesmurphypdx (@jamesmurphypdx) January 21, 2022
Totally normal. Totally cool.

— Jay Nichols (@jay2boat) January 21, 2022
He's not well.

— Cathy Tiedemann (@CathyTiedemann) January 21, 2022