Giant 'Loser' Sign Projected Onto Trump's Golf Course To Soundtrack Of 'YMCA'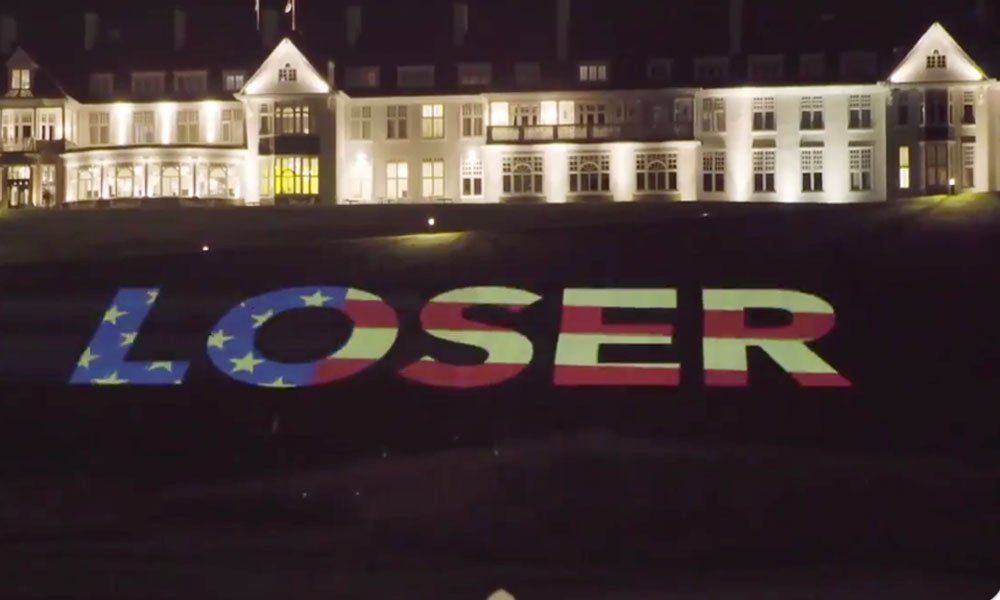 The day after the election, President Donald Trump was playing golf when he found out he had lost to Democrat Joe Biden, and it was on one of his own golf courses that activists decided to amplify that message, using Trump's favorite insult.
The front lawn of the Trump Turnberry course in Ayrshire, Scotland, was lit up with the word "Loser" to the strains of the Village People song "YMCA," which was a Trump campaign anthem.
As the disco classic played, huge letters were displayed one after the other, flashing in time with the music, in the colors and stars and stripes of the American flag.
The projection was the handiwork of Led By Donkeys, a British activist group formed at the end of 2018 to oppose Brexit. Named after the phrase "Lions led by donkeys," which refers to First World War soldiers being led to their deaths by incompetent leaders, the group raises money from crowdfunding to post billboards and projections.
"Hey Donald J. Trump, we know you're finding it difficult to accept the election result so we projected it onto your golf course with some familiar music," the group wrote on Facebook.
The video was shared widely and has been watched more than half a million times on Twitter.
We know you're finding it difficult to accept the election result so we projected it onto your golf course with some familiar music pic.twitter.com/sn6h0zA5MT

— Led By Donkeys (@ByDonkeys) November 25, 2020