Former Mueller Prosecutor Reveals Trump-Putin Secret Scheme To Take Over Parts Of Ukraine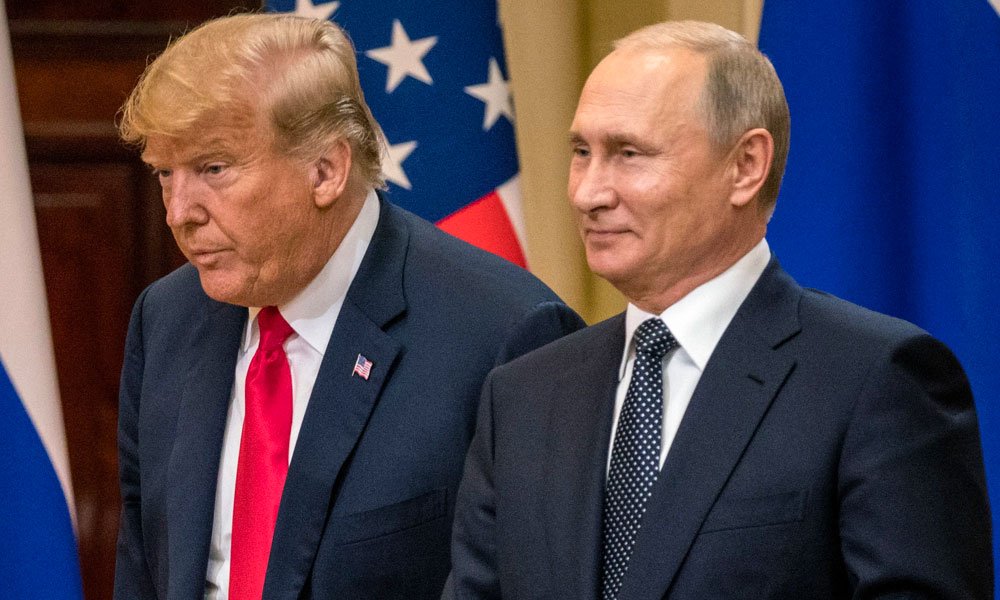 Former federal prosecutor Andrew Weissmann, one of Special Counsel Robert Mueller's top deputies during investigations into Russian interference in the 2016 presidential election, said during an interview with PBS that Russian President Vladimir Putin was waiting on a "wink" from former U.S. President Donald Trump to seize parts of Ukraine—years before Russia launched a full-scale invasion.
Speaking with PBS' Firing Line and host Margaret Hoover, Weissmann revealed correspondence between former Trump campaign chair Paul Manafort and Kremlin aide Konstantin Kilimnik discussed Putin claiming part of Ukraine, saying that a "wink" from the Republican former president was needed to "make this work."
It was "such a clear indication of what Vladimir Putin was trying to do," Weissmann said, according to Newsweek.
Following the publication of the Mueller report in August 2020, the Senate Intelligence Committee found that the Kremlin launched an "aggressive, multifaceted effort to influence, or attempt to influence, the outcome of the 2016 presidential election."
Paul Manafort, who headed Trump's campaign for a few months in 2016 and was convicted of fraud and conspiracy charges, worked with Russian and Moscow-backed Ukrainian figures, including Kilimnik, according to the report, which identified him as a "Russian intelligence officer."
"Kilimnik and Manafort formed a close and lasting relationship that would endure to the 2016 U.S. elections and beyond," the Senate Intelligence Committee report said. Manafort "discussed with Kilimnik a peace plan for eastern Ukraine that benefited the Kremlin," the report said. The pair pursued "the pro-Russia Ukraine peace plan Kilimnik had first raised with Manafort" in August 2016 after the election, the report states.
"Manafort's high-level access and willingness to share information with individuals closely affiliated with the Russian intelligence services, particularly Kilimnik, represented a grave counterintelligence threat," the report read.
Watch the interview below.
In his book, former Mueller prosecutor @AWeissmann_ recounts Paul Manafort meeting with a Putin ally over a proposed deal allowing Russia to take control of part of Ukraine with #Trump's implicit approval.

"It was such a clear indication of what Vladimir Putin was trying to do." pic.twitter.com/WkAlHHt2I9

— Firing Line with Margaret Hoover (@FiringLineShow) April 9, 2023
Trump has repeatedly weighed in on how he would handle the ongoing war in Ukraine, saying he could end the war within 24 hours.
Last month, Trump signaled that he would have "made a deal" for Moscow to claim parts of Ukraine, had he been in power when the Russian invasion took place.
Saying Russia is "going for everything," Trump told host Sean Hannity in early March that Putin "would have never done it" if the former president was still in the White House.
"That's without even negotiating a deal," Trump continued. "I could have negotiated."
"At worst, I could have made a deal to take over something, you know, there are certain areas that are Russian speaking areas, right, like, but you could have worked a deal. And now Ukraine is just being blown to smithereens," the former president said.