Fake GOP Electors Could Face 19 Years In Prison Over Election Forgery: Michigan Attorney General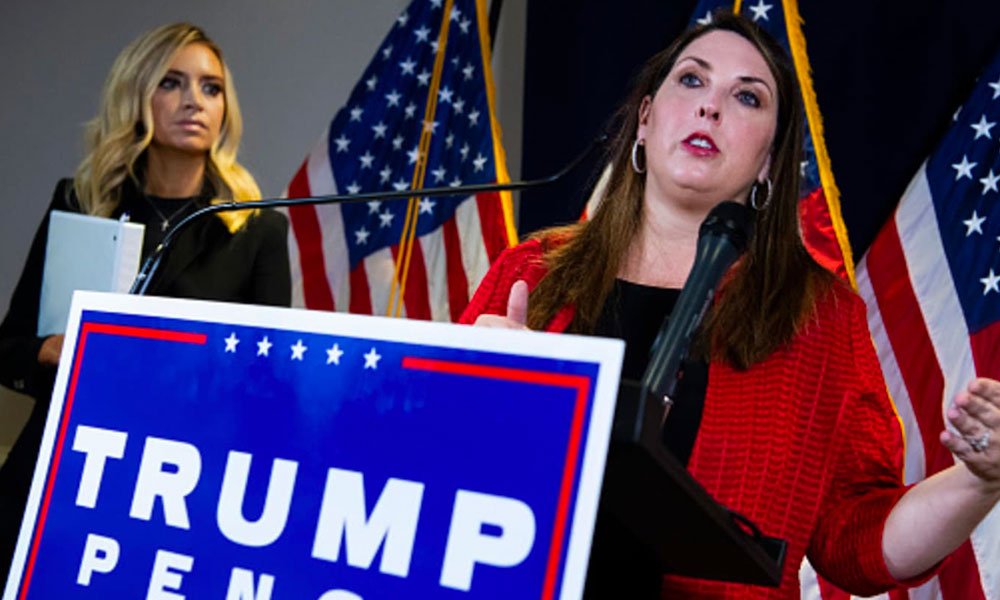 Michigan attorney general Dana Nessel is asking federal prosecutors to open a criminal investigation into 16 Republicans who submitted false certificates stating they were the state's presidential electors despite Joe Biden's victory in 2020, saying their brazen attempt is "part of a much bigger conspiracy" to keep Trump in power.
Last March, watchdog group American Oversight obtained bogus certificates submitted by Republicans in seven states: Arizona, Georgia, Michigan, Nevada, New Mexico, Pennsylvania and Wisconsin.
Speaking with MSNBC's Rachel Maddow, Nessel revealed that her office had been evaluating charges for nearly a year but decided to refer the matter to the U.S. attorney in western Michigan. She also said the perpetrators could face up to 19 years in prison for the election forgery.
"Under state law, I think clearly you have forgery of a public record, which is a 14-year offense, and election law forgery, which is a five-year offense," totaling 19 years, she told Maddow. But the Justice Department, she said, is best suited to probe and prosecute them.
During the interview, Nessel alleged a "coordinated effort" among Republican parties in several battleground states including Michigan to push so-called alternate slates of electors with fake documents. She said she wants federal authorities to make an evaluation for possible charges.
"Obviously this is part of a much bigger conspiracy," Nessel said.
When Michigan's electors cast 16 votes for Biden in December 2020 following the certification of his 2.8 percentage point win, a separate group that included some Republican state House members tried to enter the state Capitol with Donald Trump's Electoral College candidates. They were turned away by state police but claimed in the certificates that they met "in the State Capitol." The group includes Republican National Committeewoman Kathy Berden and Meshawn Maddock, co-chair of the Michigan Republican Party.
The invalid certificates also were mailed to the U.S. Senate, Benson, and the federal court for western Michigan.
After the attempt, the Federal Register notified Michigan's elections director and Gov. Gretchen Whitmer's chief lawyer in an email that it received unofficial, signed certificates from GOP electors who had not been appointed by the Democratic governor.
There are also complaints pending in Wisconsin alleging that GOP electors in that swing state committed fraud by submitting the false paperwork.
In Pennsylvania, Trump electors signed the documents in an office of a Republican marketing consultant two blocks from the state Capitol. The state Republican Party said then that the Trump electors met at the request of the campaign and described it as a "conditional vote."