During Denial, Trump Lied About Calling His Wife Back Home From Paris In 2018. Melania Traveled With Him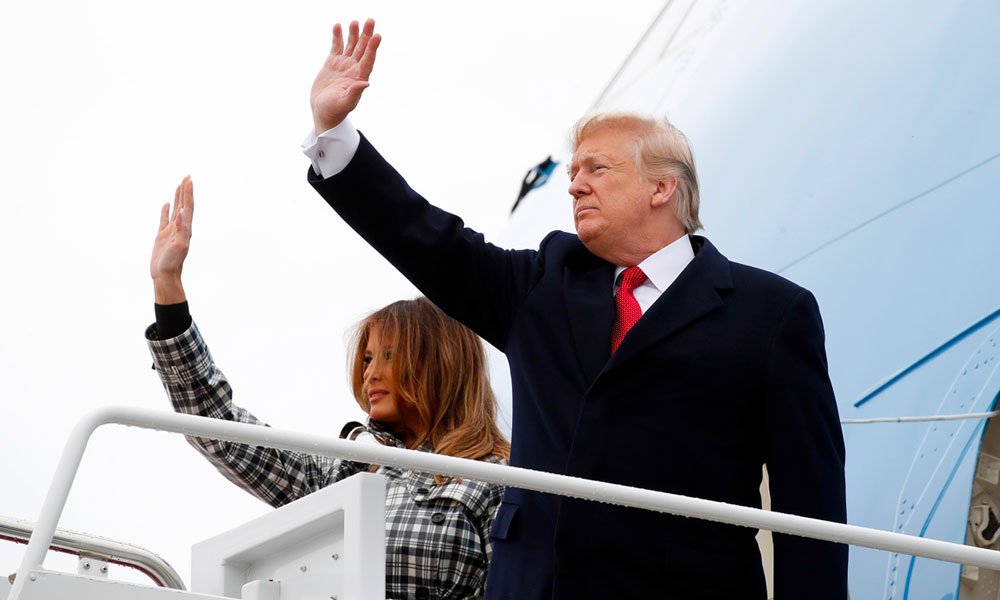 President Donald Trump is frantically denying that he disparaged American dead soldiers during a trip to France in 2018 after sources told The Atlantic that he called U.S. service members who were buried there during World War I "losers." But he couldn't resist lying during his denial.
At the time, Trump was expected to arrive at Aisne-Marne American Cemetery, but he canceled last minute, stating that due to the rain, the helicopter could not fly to the location noting that the Secret Service could not drive him.
However, according to four sources with knowledge of the incident, Trump was reluctant to travel to the cemetery because he was concerned that the rain would dishevel his hair, the Atlantic reported.
He also did not think it was important to honor the dead there, according to the sources.
"Why should I go to that cemetery? It's filled with losers," Trump reportedly told aides before canceling the trip to Belleau, France.
In another conversation, Trump reportedly said that the 1,800 marines who lost their lives in the battle of Belleau Wood were "suckers" for getting killed. The president reportedly asked aides about historic details about WWI, including "Who were the good guys in this war?"
Trump furiously denied the report, but couldn't avoid lying in the process.
"Let me just go into the — if I might, into the trip to Europe and to France. I was ready to go to a ceremony; I had two of them. One the following day; it was pouring, and I went to that. But the helicopter could not fly," Trump said. "The reason it couldn't fly is because it was raining about as hard as I've ever seen. And, on top of that, it was very, very foggy. And the helicopter was unable to fly. It was a fairly long helicopter flight, but it was a very long drive."
"So I said, No, I want to do it. They said, You can't. There was no way I would have been able to do it. And they would never have been able to get the police and everybody else in line to have a President go through a very crowded, very congested area," Trump added.
He then claimed that he called back home and spoke to his wife.
"So I went and I called home. I spoke to my wife. I said, I hate this. I came here to go to that ceremony, and to the one that was the following day, which I did go to. I said, "I feel terribly." And that was the end of it," Trump claimed.
But there's a problem: His wife, Melania Trump, traveled with him to Paris and was with him all the time.
Watch Trump's remarks below: