Dramatic Moment When Mo Brooks Is Served With Lawsuit Caught On Film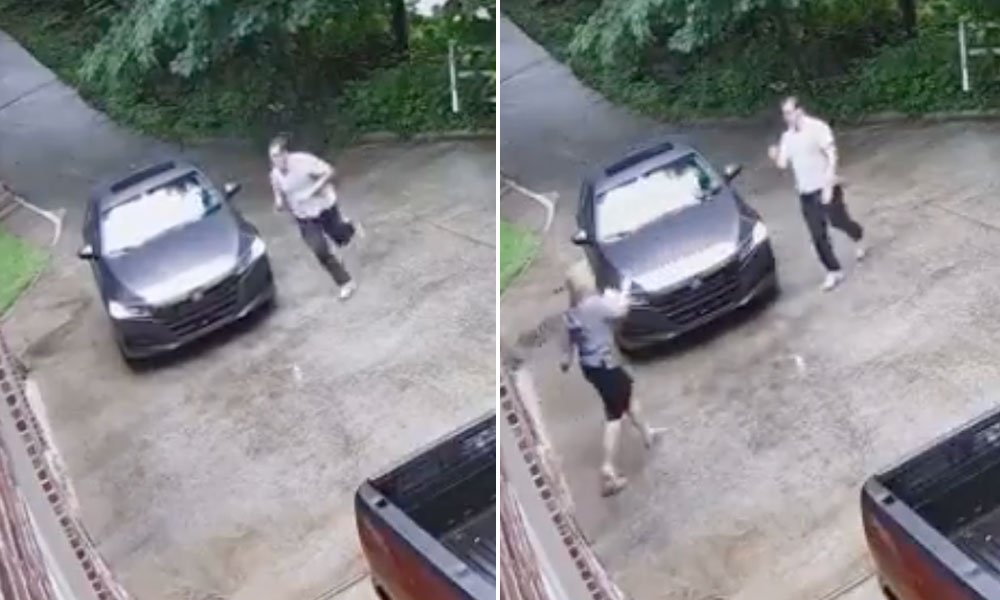 Video shared online shows the intense moment a private investigator finally serves Rep. Mo Brooks (R-AL) with the insurrection-related lawsuit filed by Rep. Eric Swalwell (D-Calif.).
For months, Brooks managed to dodge Swalwell and his legal team. But he was finally served with the court documents through his wife.
Brooks took to Twitter on Sunday to complain about the process server. According to him, not only was he served, but he also claims his wife was also "accosted" by the server. Now, the footage from Brooks' home surveillance cameras has also been released.
As reported by Talking Points Memo, "in the one-minute clip, provided to TPM by Brooks' office, Brooks' wife, Martha, can be seen pulling into the driveway then turning right into what seems to be a garage. Another car quickly drives up behind her, the process server hurrying out of the still-running car with the papers in one hand and a cellphone in the other."
In response to the claims by Brooks' team, Swalwell's lawyer Phil Andonian released a statement to Talking Points Memo. Andonian argues that the footage speaks for itself and shows "no truth" to Brooks' claims.
"The video shows that there was no truth to Mo Brooks' claim that the process server went into their house —as we have maintained all along," Andonian told the publication. "The video also shows that the papers were validly served. If Brooks wants to challenge service in court, he is free to do so, and we'll look forward to getting his motion and taking it up with the judge."
He added, "I have absolutely no doubt that it was an unpleasant experience for Mrs. Brooks, as I can imagine it would be for anybody. It's not something we wanted to have happened."
"This is a sitting congressman with some profile in a building and grounds completely locked down to the public because of his actions on January 6," Andonian said. "And Congressman Swalwell is not allowed to just serve him personally because a party can't serve the other party on the suit."
Watch:
Mo Brooks' wife is finally served with Jan 6 insurrection incitement lawsuit from Eric Swalwell's attorney. (Video courtesy Mo Brooks' security camera). pic.twitter.com/B8bxHcT3jM

— Ron Filipkowski (@RonFilipkowski) June 8, 2021