'Did SNL Put This Together?' Trump Lawyers Buried In Mockery Over 'Ridiculous' Supercut Of Democrats Saying 'Fight'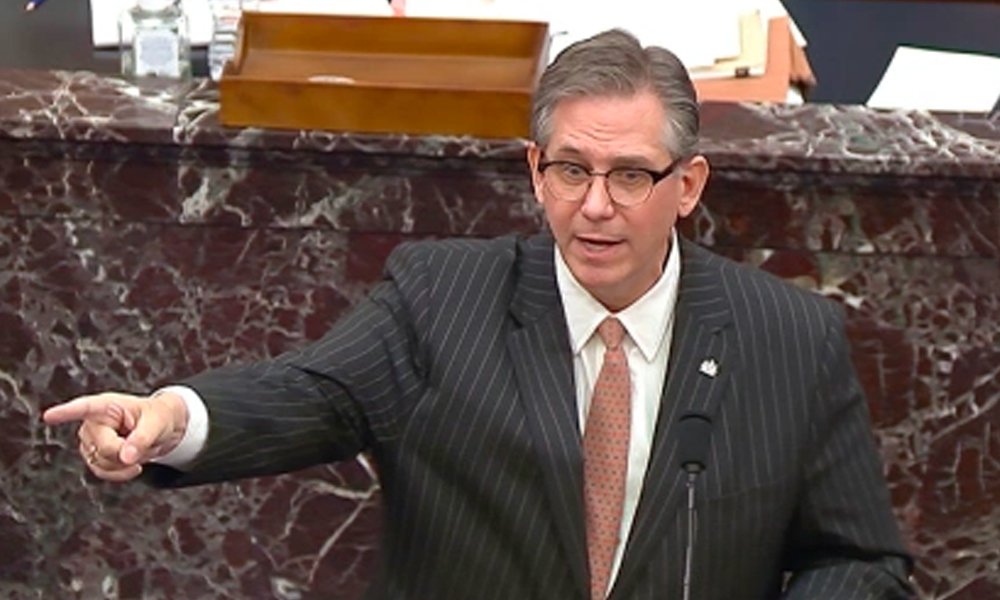 Impeachment attorneys representing former President Donald Trump in the Senate trial are being ridiculed on social media for showing a mind-numbing supercut video of various Democrats saying the word "fight," and viewers couldn't handle the shock.
The poorly edited video mashup features President Joe Biden, Vice President Kamala Harris, Former President Barack Obama, Sen. Elizabeth Warren and other Democrats using the word "fight" as a defense of Trump urging his Republican lawmakers and his supporters to challenge his election loss ahead of the deadly insurrection.
Viewers struggled to see the point —or to make it through the entire video without screaming.
Watch the video and some of the reactions below.
WATCH: Trump's defense plays nearly 10 minutes of clips showing Democrats using the word "fight," to defend Trump using the word "fight" about 20 times in his speech to supporters before the Capitol riot began https://t.co/YUg7sgxuDX pic.twitter.com/3eMNp7E2S2

— CBS News (@CBSNews) February 12, 2021
YOU SAID FIGHT

— Tom Nichols (@RadioFreeTom) February 12, 2021
With this mashup of Democrats using the word "fight," Trump's lawyers are proving … well, nothing. Their supporters did not attack the Capitol.

— Karen Tumulty (@ktumulty) February 12, 2021
Did SNL put this together?

— Jonathan Capehart (@CapehartJ) February 12, 2021
Did I miss the videos of mobs of Democrats storming the Capitol and murdering a police officer because Hillary Clinton played "Fight Song" at a rally?

— Kevin M. Kruse (@KevinMKruse) February 12, 2021
The production value isn't terrible. It's kind of awesome to see dems fighting for things that are right.

— Aleem Ahamed 🇨🇦 (@aleem_ahamed) February 12, 2021
they've done it. They've bored me into submission.

— Master Rebecca Schoenkopf, Wonkette Editrix, King (@commiegirl1) February 12, 2021
I hadn't realized until now that Trump was impeached merely for using the word "fight."

As if an arsonist would defend himself by showing that other people had sometimes lit matches.

— Ed Whelan (@EdWhelanEPPC) February 12, 2021
I hope this presentation ends with Fight Song

— good reader, good tweeter (@jesseltaylor) February 12, 2021
My Lord, this "fight" video from these lawyers willing to sacrifice their careers for Trump. Brings back high school memories of my fight-team-fight days. Fear me. pic.twitter.com/Iqt6OWa7Tf

— Connie Schultz (@ConnieSchultz) February 12, 2021
All violence should be condemned, no matter who commits it. Statements by politicians in support of fighting does not negate Trump's months-long incitement of violence.

— Barb McQuade (@BarbMcQuade) February 12, 2021
Their defense is that Democrats will fight for you.

Genius.

— 🔪Knife Bomb 💣 (@TheeKnifeBomb) February 12, 2021
Republicans called for and funded a violent insurrection. Elizabeth Warren said we should "fight" for healthcare. Those things are…not the same. At all. And the American people know it.

— Kaivan Shroff (@KaivanShroff) February 12, 2021
Republicans called for and funded a violent insurrection. Elizabeth Warren said we should "fight" for healthcare. Those things are…not the same. At all. And the American people know it.

— Kaivan Shroff (@KaivanShroff) February 12, 2021
Defense team: house managers manipulated the evidence.

Also defense team: look at this 10 min. Clip of manipulated evidence.

— Almost Ex-evangelical (@a_j_stansbury) February 12, 2021