BUSTED: Matt Gaetz Panics After Being Caught Using Taxpayer Funds To Rent Office From Longtime Friend And Campaign Donor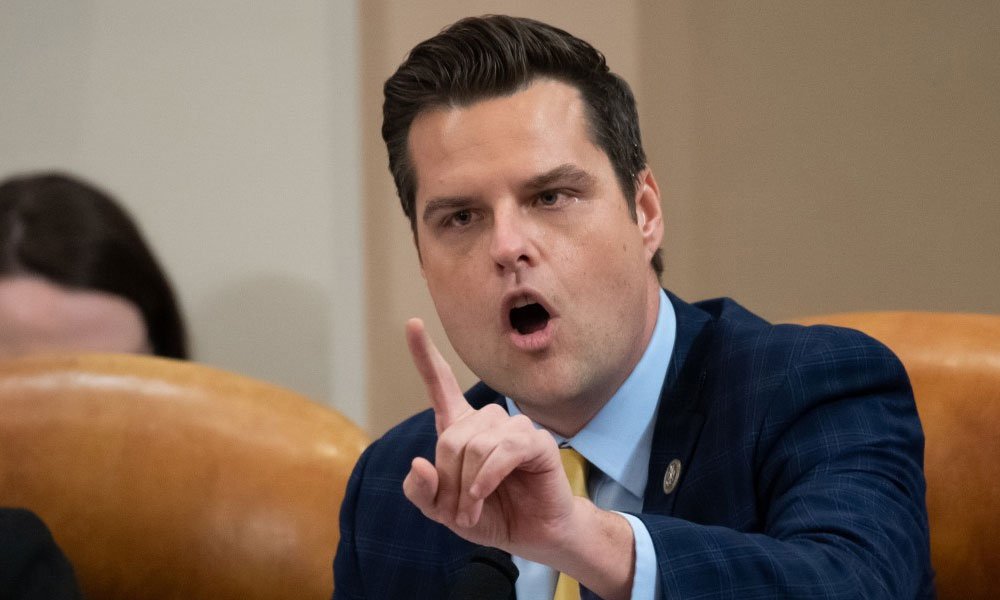 Republican congressman Matt Gaetz, of Florida, is once again facing scrutiny after reportedly spent nearly $200,000 in taxpayer money renting out a floor in a historic building in downtown Pensacola owned by a campaign donor and political confidante since 2017, Politico reported Friday.
As noted by outlet, Gaetz has already under investigation by the Florida Bar for a political stunt that involved trying to break into a secure meeting in Congress and now is under fire for what appears to be a sweetheart leasing deal at tax-payers expense.
According to Politico, "The agreement between Gaetz and Collier Merrill, a Pensacola real estate developer and restaurateur, highlights how a decades-long relationship can become intertwined with a lawmaker's congressional duties. On top of being Merrill's tenant, Gaetz attended fundraisers at Merrill's restaurants, sought his counsel on policy matters and tapped him as a validator for his work in Washington."
Previously, when questioned about the deal, both Gaetz and Merrill defended it by saying the agreement was "at or below market rate."
Politico reports: "House rules explicitly state such arrangements are not allowed."
"Gaetz — who represents a conservative swath of the Florida Panhandle — has paid more than $184,000 to Merrill's Empire Partners LLC to rent the entire sixth-floor in the Seville Tower, a historic building in downtown Pensacola, according to House disbursement records," Politico reports. "House rules state that all leases for district offices must be 'at fair market value as the result of a bona fide, arms-length, marketplace transaction. The Lessor and Lessee certify that the parties are not relatives nor have had, or continue to have, a professional or legal relationship (except as a landlord and tenant).'"
In his defense, Merrill states that he dispatched his leasing director to offer Gaetz's staff a "range to see what they can get" and that they reached a mutually agreeable price, with the friend of Gaetz also adding, "I probably be damned if I do, damned if I didn't. If I [set the rent] too cheap, I'm probably doing him a favor, if I do it too expensive, he's doing me a favor."
In response to the report, Gaetz took to Twitter to accused Politico of writing a "hit piece."
.@politico is writing a smear piece on me as shills for the @SenatorBurr camp. (Probably in exchange for some other intel story.)

The scandalous oppo they've dumped:

I have an office lease at or below market rate, approved by the House, from Merrill Land Company.

— Matt Gaetz (@mattgaetz) April 16, 2020
You can read Politico's report here.