Beto O'Rourke Confronts Greg Abbott During Press Conference Over 'Predictable' Response To Mass Shooting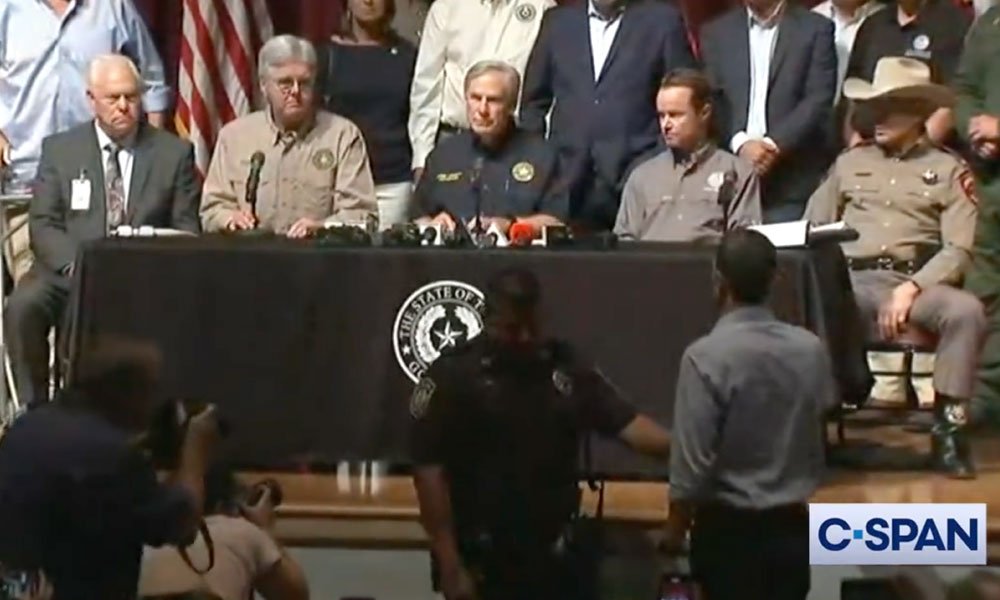 Texas gubernatorial candidate Beto O'Rourke confronted Gov. Greg Abbott during a press conference, pushing for him to take action against school shootings.
Just before Lieutenant Governor Dan Patrick was going to speak, O'Rourke approached the stage, causing a verbal confrontation.
O'Rourke was heard telling the Texas officials that they are "doing nothing," about gun reform in the wake of the mass shooting, and that "this was totally predictable."
One Texas official also told O'Rourke that he "can't believe" he would come to the press conference to "make a political issue" as a man called O'Rourke a "sick son of a b*tch" and an "embarrassment."
O'rouke was eventually scored out of the auditorium. After the incident, the Texas Democrat called for a ban on sales of assault weapons and slammed Abbott for attending the NRA convention as texas mourns the death of 19 children.
Texas Gubernatorial candidate Beto O'Rourke (D) interrupted a news conference led by the current Gov. Greg Abbott (R) on the school shooting in Uvalde.

Good for @BetoORourke. It's time to start interrupting these do nothing jokers. pic.twitter.com/Jb5vKn8Fn6

— Amee Vanderpool (@girlsreallyrule) May 25, 2022
Good for @BetoORourke

— Molly Jong-Fast (@MollyJongFast) May 25, 2022