'You're Trash': Lauren Boebert Buried In Scorn For Heckling Biden While Talking About Son Beau During SOTU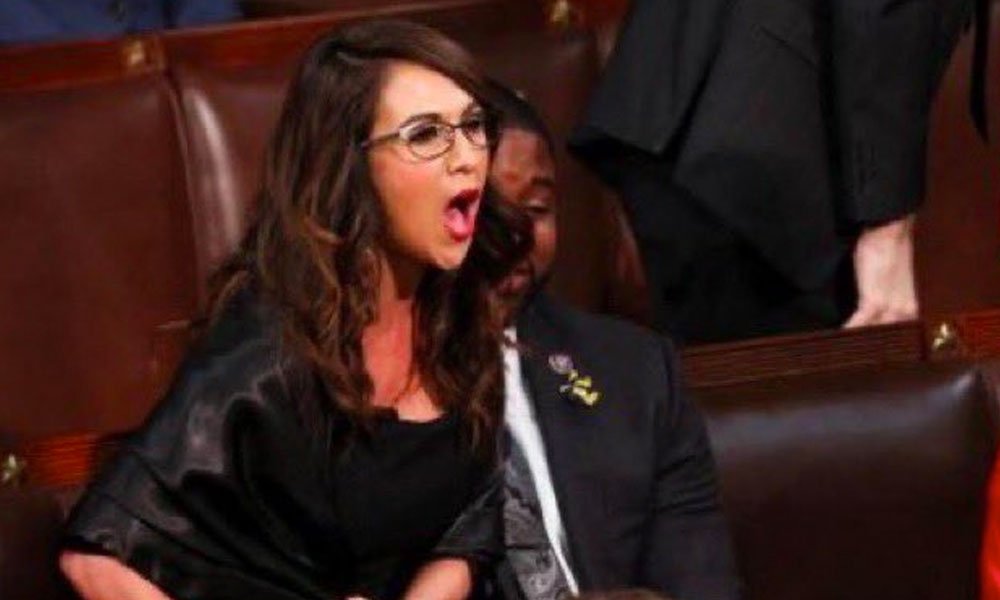 Lauren Boebert (R-CO) is being hit from all corners of the internet for heckling President Joe Biden as he talked about the death of his son Beau during his State of the Union address on Tuesday night.
The QAnon-aligned lawmaker was booed as she interrupted Biden as he talked about the flag-draped coffins of fallen service members, to blame him for the deaths of 13 troops in Afghanistan.
Her heckling came as the president had emotionally recalled how his eldest son had died from cancer, which could have been caused by burn pits in Iraq.
"You put them in there, 13 of them," she could be heard yelling, causing vice-president Kamala Harris to grimace in obvious disapproval.
The president, however, did not flinch and carried on, saying that he did not know if his son's brain cancer had been caused by the burn pits he had lived next to while on active duty.
A terrorist attack at Hamid Karzai International Airport last August killed 13 US service members and at least 170 Afghans during the withdrawal of American troops from the country.
Boebert later took to Twitter to defend herself, only to spark more anger.
"When Biden said flag draped coffins I couldn't stay silent. I told him directly he did it. He put 13 in there. Our heroic servicemen and women deserve so much better," she tweeted.
Check some of the responses below.
Here's the moment where Lauren Boebert was booed for shouting that Biden put soldiers in flag-draped coffins — all while the president was talking about his veteran son dying of cancer and how it potentially could have been due to burn pits. pic.twitter.com/fJzsPwkQza

— Justin Baragona (@justinbaragona) March 2, 2022
How old are you that you must act out during a solemn occasion? If you have policy disagreements, please ask a responsible adult to help you brainstorm for ways to productively express them at appropriate times. 🤡🙄

— Mary Mable (@MMable) March 2, 2022
It was out of line and embarrassing for Colorado.

— Mount Moderate (@EvansMount) March 2, 2022
Just when you think classless Lauren Boebert BoBo can't go any lower she always finds a way.

— Angela Belcamino (@AngelaBelcamino) March 2, 2022
— 💙RESISTER~PERSISTER💙 (@resist_van) March 2, 2022
Who raised these women? Seriously. Shame on them.

— Laurie Exploding Trees Leigh 🇺🇸🐘🦓🇺🇸🦒 (@LaurieLeighUSA) March 2, 2022
Last night @laurenboebert mocked the 13 dead servicemen by using them as political props. She helped incite and supported the Jan 6 terrorist attack that left veterans injured who serve in Capitol police. She should resign from Congress or be expelled.

— (((DeanObeidallah))) (@DeanObeidallah) March 2, 2022
This one takes it. pic.twitter.com/3I4qa9UMRR

— Rusty Rollings 🏴‍☠️💙🌻 (@rufkutdiamnd) March 2, 2022
— Jen Henry 🇺🇸🇺🇦 (@jenresisted) March 2, 2022
31 years ago this week I lost my first 2 men in combat. You don't give a damn about any of them. You did it because you're a child. He was talking about helping thousands of my fellow veterans and his own son who served and you threw crap all over it like a monkey. Unforgivable.

— Fred Wellman (@FPWellman) March 2, 2022
And our entire country deserves so much better than you.

Colorado you shame yourselves electing this uneducated, unintelligent, low-class trash to represent you.

If this obnoxious child had brains enough she'd be embarrassed. pic.twitter.com/w76g6k8TVu

— Khashoggi's Ghost 🇺🇦🌻 (@UROCKlive1) March 2, 2022
I'd try to explain why that was disrespectful to not only Biden, but to ALL veterans & families of vets, but I won't waste my time.

There are very few people that I wish I never knew existed. You and your Klan bestie top my list.

— MΞGAN KΞLLΞY HALL (@MeganKelleyHall) March 2, 2022
You are trash. As is your penis-exposing husband.

— Mrs. Betty Bowers (@BettyBowers) March 2, 2022