REBUFFED: Jan. 6 Congressional Gold Medal Honorees Snub Mitch McConnell, Kevin McCarthy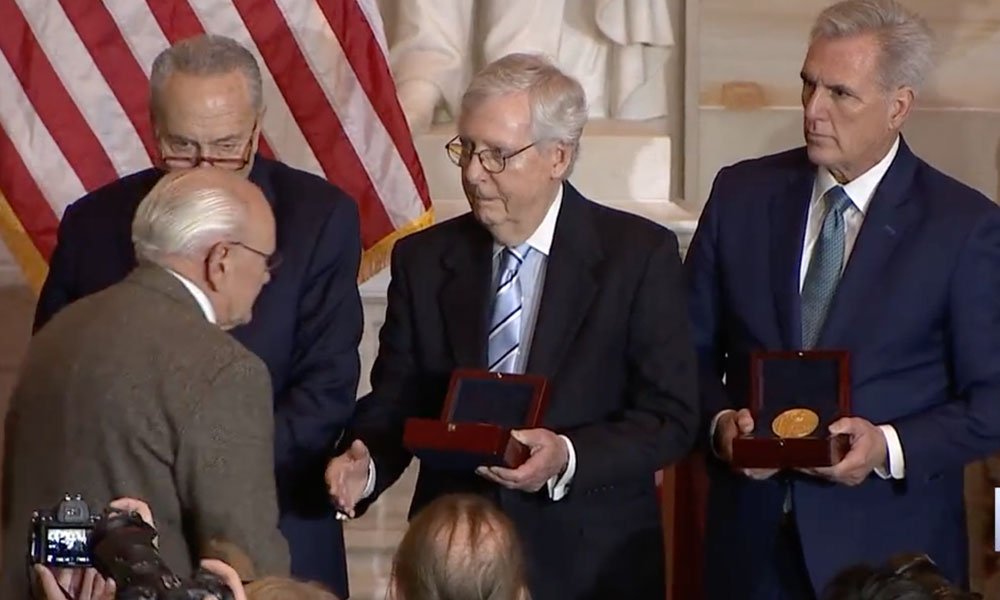 On Tuesday, Congressional leaders honored the fallen police officers who protected the U.S. Capitol during the Jan. 6, 2021, insurrection, presenting them with the highest honor that Congress can give, the Congressional Gold Medal. However, as seen in the video below, some award recipients didn't want anything to do with the Republican leaders ready to greet them.
The family of fallen U.S. Capitol Police Officer Brian Sicknick refused to shake hands with Senate Minority leader Mitch McConnell (R-KY) and House Minority Leader Kevin McCarthy (R-CA). McConnell offered his hand as they walked by, while McCarthy did not.
Footage of the event shared on social media shows Sicknick's family members — his parents and two brothers — warmly greeting House Speaker Nancy Pelosi (D-CA) and Senate Majority Leader Chuck Schumer (D-NY) and then walking right past McConnell's outstretched hand without even looking at McCarthy.
After the event, Ken Sicknick, Brian Sicknick's brother, said that his family didn't think that McCarthy and McConnell even cared about honoring those who protected the Capitol that day.
"I think whatever they said at that podium was because they were forced to," he told the Huffington Post. "They had to show face because they were the leaders of their respective parties. But was it sincere? I doubt it."
The Sicknicks said they couldn't believe that Republicans seemed hesitant to condemn Trump for suggesting over the weekend that the Constitution be thrown out so he could be reinstated as president.
"I'm just tired of them standing there and saying how wonderful the Capitol Police is, and then they turn around and… go down to Mar-a-Lago and kiss his ring and come back and stand here and sit with — It just, it just hurts," Sicknick's mother, Gladys Sicknick, told CNN.
Watch the video below.
During Congressional Gold Medal ceremony for Jan. 6 police, representatives of those receiving awards shake hands with Schumer then walk past McConnell and McCarthy. pic.twitter.com/YGjKXRGtiZ

— Howard Mortman (@HowardMortman) December 6, 2022