Trump Lawyer Lashes Out At Senators For Laughing At His Threat Of 'Slapping' Subpoena To 100 Witnesses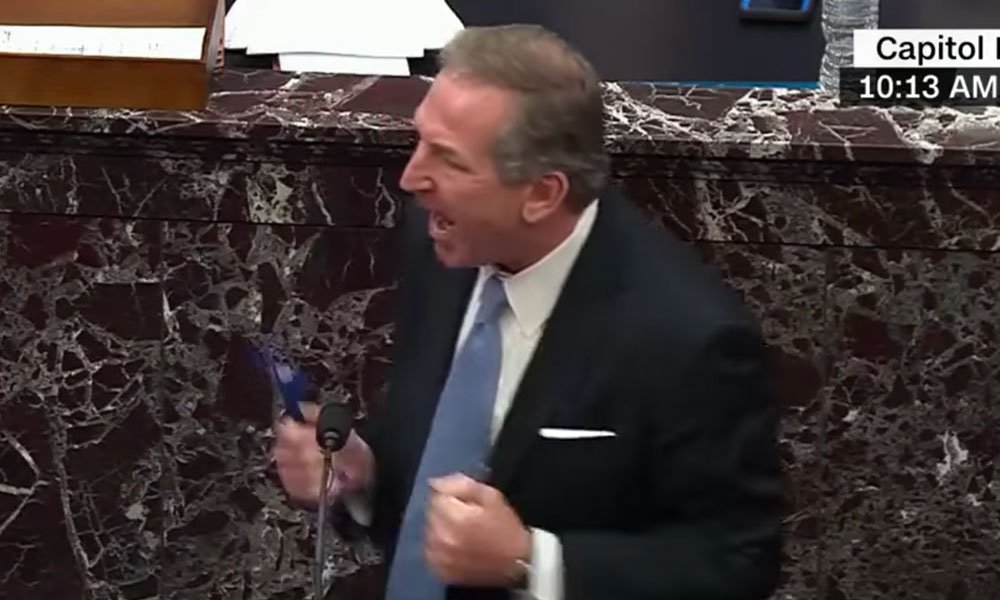 Donald Trump's impeachment attorney Michael Van Der Veen lashed out at U.S. Senators sitting in judgment of the impeached former president after they laughed at one of his demands should witnesses be called.
After snapping at the idea of calling impeachment witnesses, Van Der Veen said he would call 100 witnesses while exclaiming "Do not handcuff me!" He then stated, should witnesses be called, he would seek depositions from individuals the old-fashioned way — in his law office in Philadelphia. That brought laughter from the Senators which set him off.
"I don't know how many civil lawyers are here, but that's the way it works, folks," he ranted. "When you want somebody's deposition, you send a notice of deposition and they appear at the place where the notice says. That's civil process. I don't know why you're laughing — it is a civil process. That's the way lawyers do it, we send notices of deposition."
With Sen. Pat Leahy (D-VT) calling for order, Van Der Veen once again snapped at the lawmakers.
"I haven't laughed at any of you and there's nothing laughable here," he insisted. "He mentioned my client coming in to testify — that is not the way it's done. If he wanted to talk to Donald Trump, he should have to put a subpoena down like I'm going to slap subpoenas on a good number of people if witnesses are what is required here for them to try to get their case back in order, which has failed miserably for four reasons."
"There's no jurisdiction here, there has been no due process here, they have completely violated and ignored and stepped on the Constitution of the United States," he continued. "They have trampled on it like people who have no respect for it and, if this is about nothing else, it has to be about the respect of our country, our Constitution and all of the people that make it up."
Watch the video below: