Tom Brady Trolls Trump Alongside Biden At White House Ceremony: '40 Percent Of People Still Don't Think We Won'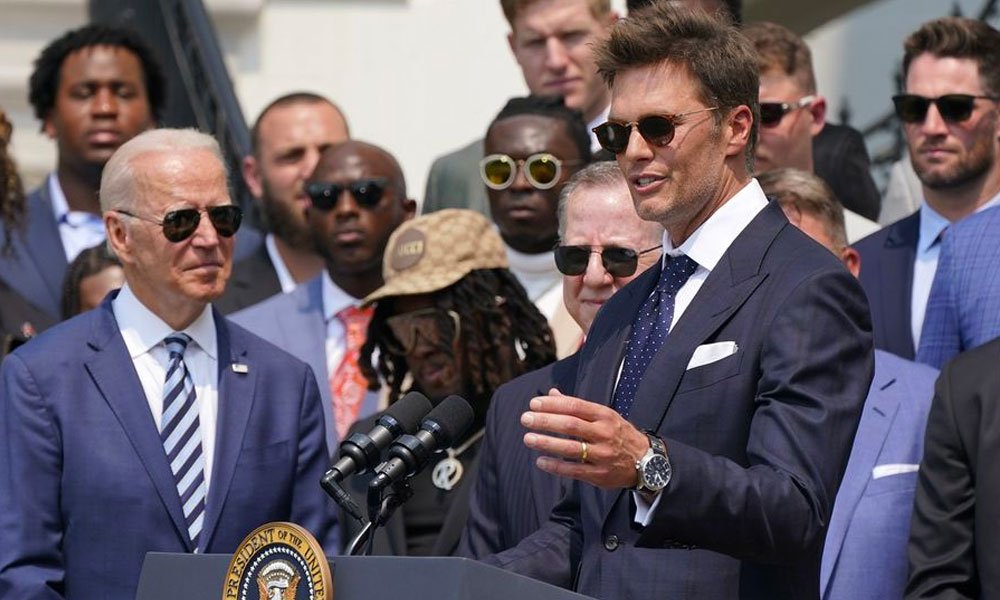 NFL quarterback Tom Brady took a jab at former Presiden Donald Trump and his supporters by joking alongside President Biden at a White House ceremony Tuesday that 40 percent of the country doesn't believe the Tampa Bay Buccaneers won the Super Bowl, alluding to the considerable percentage of Republicans who polls show do not accept Biden's election victory.
"Not a lot of people, you know, think that we could have won," Brady joked. "And in fact I think about 40 percent of people still don't think we won."
"I understand that," Biden responded, laughing.
Brady also quipped that people have started calling him "Sleepy Tom," a reference to former President Trump's nickname for Biden during the campaign.
A Monmouth University Poll survey released in March found that Trump's big lie has made an impact on about two-thirds of Republicans who do not believe Biden legitimately won the election.
Trump has repeatedly cast doubt on the results and claimed falsely that there was widespread fraud in the vote.
Biden welcomed the Tampa Bay Buccaneers to the White House on Tuesday to celebrate their February victory in Super Bowl LV with a ceremony on the South Lawn. Tampa Bay defeated the Kansas City Chiefs 31-9, only their second victory in the NFL championship game after winning the title in 2003.
The event was Brady's first visit to the White House in almost a decade (watch the video below).
NEW: Tom Brady at the White House on the Bucs' Super Bowl run:

"Not a lot of people think that we could have won. In fact, I think about 40% of the people still don't think we won."

Biden: "I understand that."

Brady: "You understand that, Mr. President?" pic.twitter.com/wfFMx0Powi

— Yahoo News (@YahooNews) July 20, 2021