Ted Cruz Picks Up a Fight With Big Bird Over Vaccine Tweet —It's Not Going Well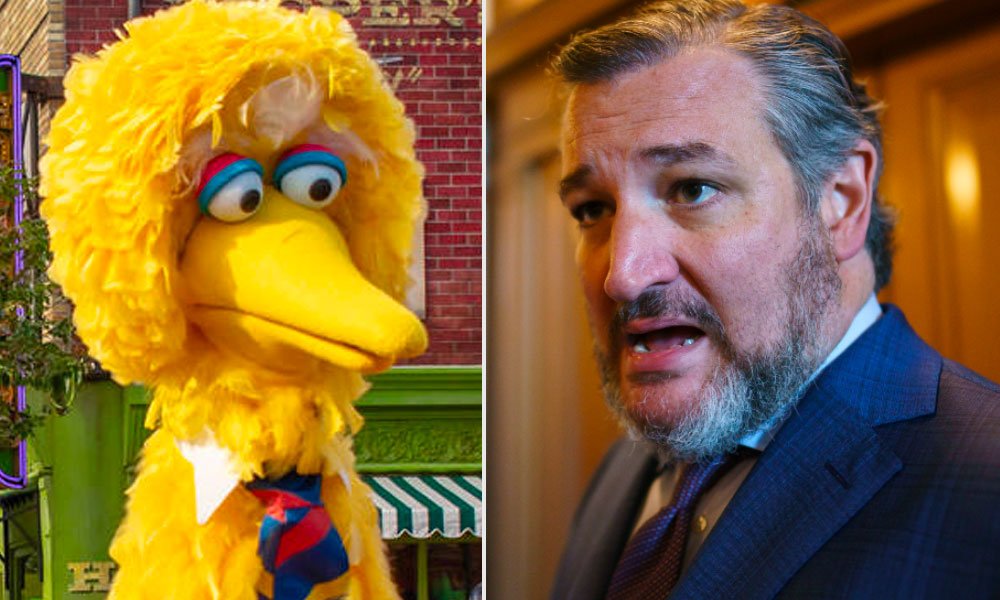 On Saturday, GOP Sen. Ted Cruz decided to pick up a fight with Big Bird, attacking the Sesame Street character for tweeting that he got his COVID-19 shot earlier in the day.
Big Bird's tweet came after the Sesame Street character appeared on CNN Saturday morning during a family town hall dubbed "The ABCs of Covid Vaccines," where the network's chief medical correspondent, Sanjay Gupta, and anchor Erica Hill answered questions about the COVID-19 vaccine for kids.
"I got the COVID-19 vaccine today! My wing is feeling a little sore, but it'll give my body an extra protective boost that keeps me and others healthy," Big Bird tweeted Saturday morning.
The tweet appeared to have triggered Ted Cruz, who immediately condemned the message as "government propaganda."
It didn't take long for his critics to respond, and mockery ensued. See some of the reactions below:
Government propaganda…for your 5 year old! https://t.co/lKUlomnpq1

— Ted Cruz (@tedcruz) November 6, 2021
You are vaccinated.

— Walter Shaub (@waltshaub) November 6, 2021
Thought you were in favor of vaccines? Why are you opposed to pro-vaccine messages?

— Scott Peterson (@HelenaMTLawyer) November 6, 2021
At least it's acceptable for birds to fly south for the winter- unlike some senators who left millions of their constituents to fucking die in the cold.

— David Hogg (@davidhogg111) November 7, 2021
— (Italian) Bamboo cryptologist (@TinResistAgain) November 7, 2021
BigBird's been getting vaccinated since 1972, but you're just now squalling about it.
You might learn quicker if you had been watching regularly. https://t.co/SyeJVQhJSV

— KellieMc (@SaidItOwnIt) November 7, 2021
Do you like doing the job of our enemies?
Or are you just enough of a useful idiot to perpetuate the disinformation that's killed over 200,000 Americans this year? pic.twitter.com/eM1LJvJFAu

— David Hogg (@davidhogg111) November 7, 2021
Let me help you with this:

Big Bird = not the government

You = the government

One of these 2 things is a source of government propaganda, and it's probably the one that is actually the government.🤦‍♂️

— Douglass Gaking (@gakingmusic) November 7, 2021
Propaganda is information, especially of a biased or misleading nature, used to promote or publicize a particular political cause or point of view.@BigBird is talking about science not propaganda.

— Eric Garcia for Congress (@EricG1247) November 7, 2021
Really? Really? You don't want kids to get vaccinated?

Kids who don't get vaccinated and die are on you and this will haunt you.

— Navy Veteran (@NavyVeteran14) November 6, 2021
Big Bird has supported public health since the 1970's, bird brain. pic.twitter.com/nTkUH4mTt7

— JJDiane ❤️🏳️‍🌈🗽 (@JJDianeM) November 7, 2021
Did you forget that you work for the government?

— David Hogg (@davidhogg111) November 7, 2021