'Stock The Hate The Run': Trump Turns Off White House Lights As Protest Raged Nearby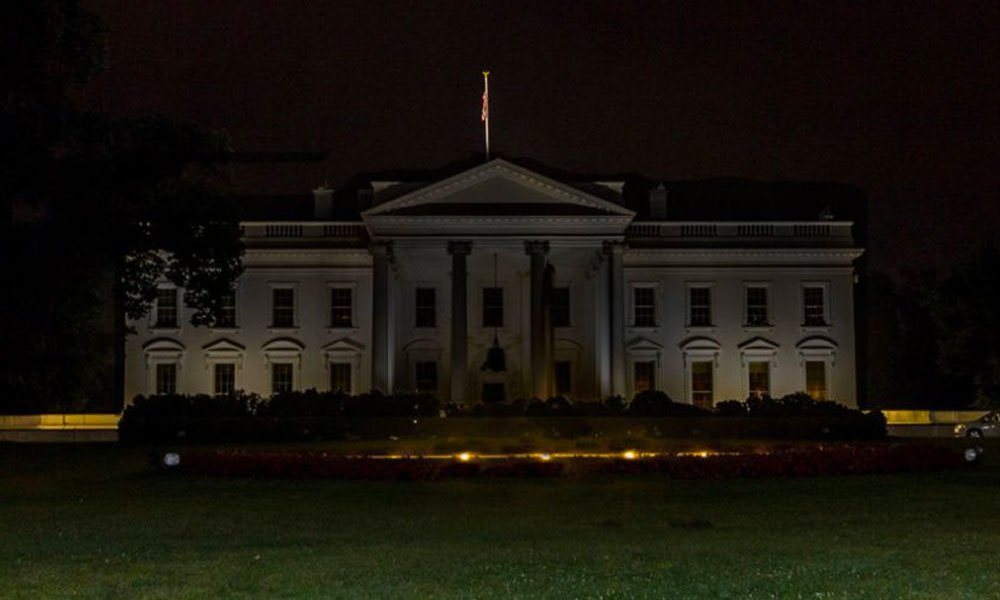 In a clear sign of weakness and lack of leadership, The White House turned off the external lights Sunday night as protests raged nearby, and the unusual reaction served as a metaphor for President Donald Trump's leadership during the latest crisis. It's the first time that the lights of the White House were turned off since 1889.
The president was also whisked away to an underground bunker as Washington, D.C., police fired tear gas at protesters, who set fire to prominent structures across the city as part of nationwide demonstrations against police brutality.
Trump, who has been inciting violence against citizens, appears to be hiding now. Twitter users reacted in disgust:
Trump turning off the lights at The White House describes the current situation in America perfectly. Nobody's home.#BunkerBoy pic.twitter.com/3vULVniqXh

— Alex Cole (@acnewsitics) June 1, 2020
For the first time since 1889, the lights of the White House were turned off, The President Donald Trump takes refuge in the bunker, and fires are started in the surroundings. Explosions, protests and injuries reported in Washington, D.C.#BlackLivesMatter pic.twitter.com/I6m9khHvlv

— ven (@hiddlesgold) June 1, 2020
Make no mistake-the White House was trying to hide by turning off all the lights last night. Stoke the hate, then run…how pathetic.

— Amee Vanderpool (@girlsreallyrule) June 1, 2020
Lights out at #WhiteHouse is a powerful symbol. Total lack of leadership from @realDonaldTrump #BunkerTrump pic.twitter.com/pJTUYA3trT

— Steve Belovarich (@iplayitofflegit) June 1, 2020
Like all other strong men, Donald Trump is a coward and soft and terrified. Hiding in the White House and turning off the lights is all on brand. These are insecure, sad little men who build themselves up with the iconography of fascism to hide their fear.

— Jared Yates Sexton (@JYSexton) June 1, 2020
This is eerily symbolic of the Trump Administration. In the midst of multiple crises He turns of the lights in the White House:

– Global pandemic with more than 100,000 people dead in the US.
– More than 40 million people unemployed
– Coast to Coast Protests pic.twitter.com/WKSRJ2yOqI

— Karine Jean-Pierre (@K_JeanPierre) June 1, 2020
White House turning off its lights and pretending no one's home, as if there's been a president there for the last three and a half years.

— Victoria/V.E. Schwab (@veschwab) June 1, 2020
The #WhiteHouse went dark, turning off almost all of its external lights. Smoke was seen rising near the Washington Monument. (via @nytimes) #GeorgeFloydProtests
pic.twitter.com/39bMS0zUKC

— Angélica Serrano-Román 🇵🇷 (@angelicaserran0) June 1, 2020
Breaking news: Police fired tear gas at protesters who set fires near the White House as unrest continued in cities across America for a 6th consecutive night. Here's the latest: https://t.co/iSU7z7NjZB pic.twitter.com/QPuOVkKb6X

— The New York Times (@nytimes) June 1, 2020
I have never seen this in my entire life. I lived in DC and worked at a restaurant two blocks from here and rode my bike by the White House every night at around 2am. The lights were always on. This absolutely sums up this administration. Nobody's home. https://t.co/Uk2rhxE1Wj pic.twitter.com/ACjZtaaRPR

— Duff Goldman (@duffgoldman) June 1, 2020
Share your reaction.