'Prove It': Internet Torches Matt Gaetz For Claiming He's 'The Victim' In Sex Trafficking Probe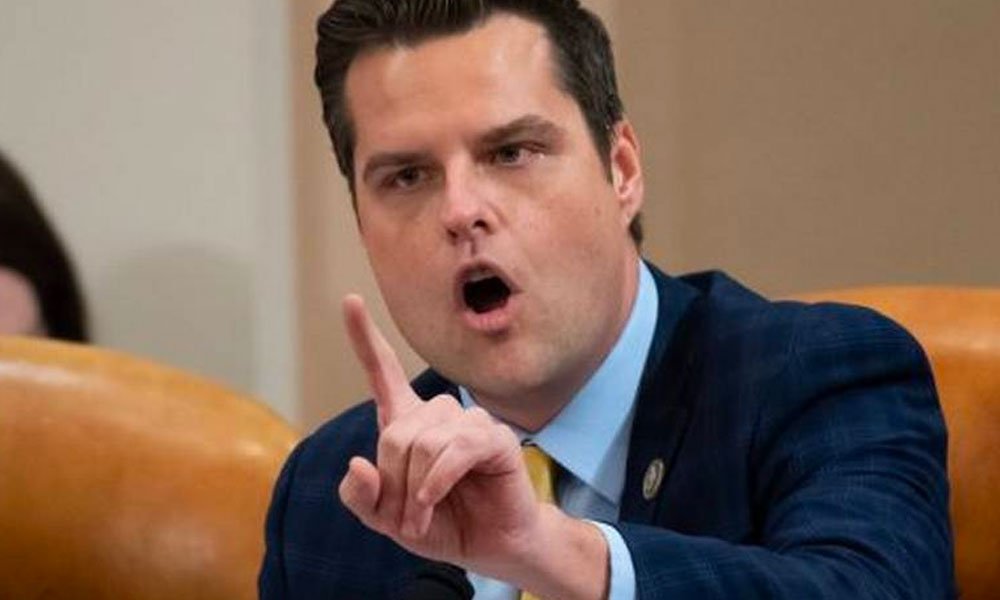 Twitter users are mocking Rep. Matt Gaetz after the Florida Republican launched a series of frantic tweets defending himself following a  report that the Department of Justice (DOJ) is investigating his alleged sexual relations with a teenager.
In his tweets, Gaetz claimed he was the victim of "an organized criminal extortion" involving a former DOJ official and his own family.
"Over the past several weeks my family and I have been victims of an organized criminal extortion involving a former DOJ official seeking $25 million while threatening to smear my name," Gaetz said.
"We have been cooperating with federal authorities in this matter and my father has even been wearing a wire at the FBI's direction to catch these criminals. The planted leak to the FBI tonight was intended to thwart that investigation," he claimed.
"No part of the allegations against me are true, and the people pushing these lies are targets of the ongoing extortion investigation," he continued.
The Florida man also called on the DOJ to "immediately release the tapes, made at their direction, which implicate their former colleague in crimes against me based on false allegations."
According to The New York Times, the DOJ probe is investigating whether the Florida lawmaker had sexual relations with a teenager. The probe, which reportedly launched during the last months of the Trump administration, is also looking at whether the congressman violated federal sex trafficking laws by allegedly paying for the girl to travel with him.
The probe is reportedly part of a larger investigation into Joel Greenberg, a former local Florida tax collector and an ally of Gaetz who is facing charges of sex trafficking a child and payment to at least one female minor for sex. Greenberg has reportedly pleaded not guilty to the charges.
Twitter users
Over the past several weeks my family and I have been victims of an organized criminal extortion involving a former DOJ official seeking $25 million while threatening to smear my name.

We have been cooperating with federal authorities in this matter…

— Rep. Matt Gaetz (@RepMattGaetz) March 30, 2021
…of the ongoing extortion investigation.

I demand the DOJ immediately release the tapes, made at their direction, which implicate their former colleague in crimes against me based on false allegations.

— Rep. Matt Gaetz (@RepMattGaetz) March 30, 2021
Prove it. Bring the receipts. Get your daddy on a legit news outlet and lets hear it from him. By the way, who is watching Nestor?

— preising (@preising) March 31, 2021
Chances of Matt telling the whole truth = 0.0%#MattGaetzIsATool

— Artie Vandelay (@ArtieVandelay1) March 30, 2021
Are you going to tweet this every hour (last time was 6:50 PM). Methinks someone is getting nervous.

So you announce all this on Twitter? Seems odd.

— New Yorker 🇺🇸 🇨🇦 🥀 (@ThomB01) March 30, 2021
I've heard some pretty shitty excuses in my time…but "my family and I are being conspired against an unnamed source formerly from the DOJ, I can prove it, my dad is a snitch for the FBI," has to be one of the shittiest.

— Big Dweeby (@bigdweeby) March 30, 2021
So, does this means you won't be on @FoxNews tonight? Without you & @Jim_Jordan, they wouldn't have many guests. #FoxNewsIsFakeNews Also, I'm pretty sure Liz Cheney has never been investigated by the DOJ. Just saying. @GOP #NeverForgetJanuary6th

— Loretta (@Gjg15Loretta) March 30, 2021
Dude, in your interview with Axios You admitted to "dating" and paying for her to travel withe you! A 17 year old girl with a 38 year old pedephile!

— Diana Haering (@dkcsh1) March 30, 2021
Sure, Matt. Sure.

— Les N 🇨🇦🇩🇰 (@OneFrankDrebin) March 30, 2021
This won't help you, but… #PizzaGaetz pic.twitter.com/J6NZh6t2LP

— Nell (@Nell7619) March 30, 2021
Guess @mattgaetz needs to go after Donald Trump and Bill Barr- potential investigation into his sexual activity with a 17 year old started during the Trump administration, according to The NY Times report pic.twitter.com/M19Y0OpQ2d

— politicalnash (@Nach9636) March 31, 2021
Looks like there is another mug shot in Frat Matt's future. pic.twitter.com/Ie8pi8Nd5p

— Sparkmom (@SparkNom) March 30, 2021
A couple of things. First, this is one of the reasons one doesn't want to develop a reputation as a pathological liar and overprivileged jerk. Second, never choose a narcissistic sexual predator as a role model. Does not end well.

— Bob (@bobtheretired) March 30, 2021