McCarthy Facing Opposition From His Own Party As He Tries To Deny Rep. Ilhan Omar Seat On Foreign Affairs Committee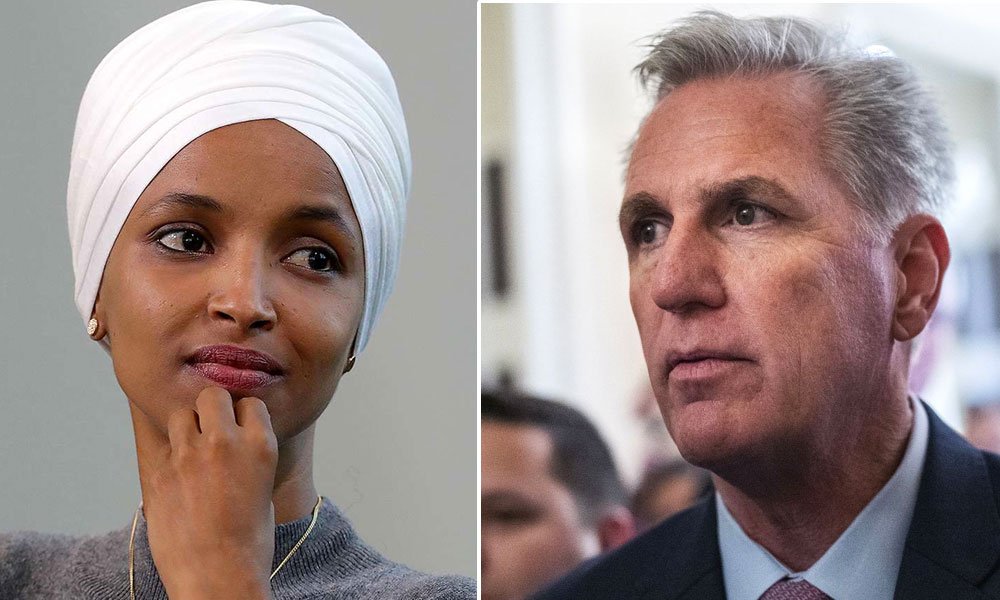 House Speaker Kevin McCarthy R-CA) is facing resistance from members of his own party over his effort to deny Rep. Ilhan Omar (D-Minn.) a seat on the House Foreign Affairs Committee.
Rep. Victoria Spartz (R-Ind.) said she will not support McCarthy's move, making matters more difficult for the GOP leader as he looks to follow through on his pledge to not seat the congresswoman on the panel.
Spartz also said she opposes McCarthy's vow to block Reps. Adam Schiff (D-Calif.) and Eric Swalwell (D-Calif.) from the House Intelligence Committee.
The congresswoman pointed to the Democratic-led moves in 2021 to strip Reps. Marjorie Taylor Greene (R-Ga.) and Paul Gosar (R-Ariz.) of their panel assignments — which she voted against — as a reason for her resistance.
"Two wrongs do not make a right," Spartz wrote in a statement on Tuesday. "As I spoke against it on the House floor two years ago, I will not support this charade again," she added. "Speaker McCarthy needs to stop 'bread and circuses' in Congress and start governing for a change."
Rep. Nancy Mace (R-S.C.) has also expressed a coolness to denying Omar the committee seat after voting against booting Greene and Gosar from their panels in 2021.
"I'm going to treat everybody equally," Mace told CNN. "I want to be consistent on it."
That GOP opposition to not seating Omar on the Foreign Affairs Committee could present a math problem for McCarthy as he looks to make good on his vow in the narrowly split chamber.