Matt Gaetz Is Reportedly Considering Leaving Congress For a Gig At Newsmax And Twitter Is Having a Blast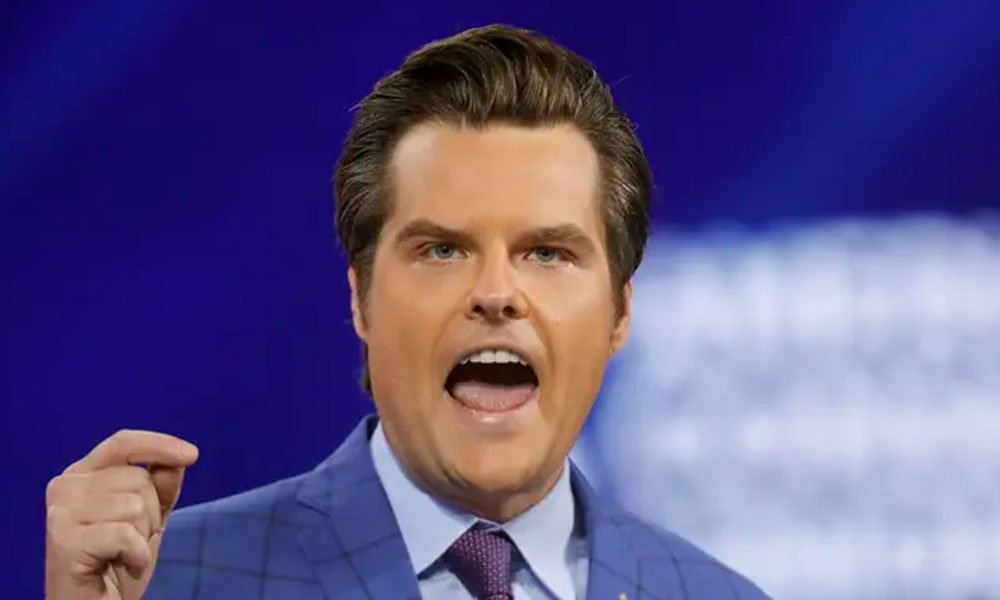 GOP Rep. Matt Gaetz, of Florida, has reportedly told friends that he is considering stepping down to become a media personality, according to a report from Axios.
Citing three sources with knowledge of the conversations, Axios reported that Gaetz is "seriously considering not seeking re-election and possibly leaving Congress early for a job at Newsmax."
The Florida congressman is apparently not happy that he has been overshadowed by newly-elected Reps. Marjorie Taylor Greene (R-GA) and Lauren Boebert (R-CO), who have taken over the irrational caucus of the GOP.
Needless to say, the news that Gaetz is considering leaving Congress was received with delight by social media users.
Check some of the reactions below.
I think that is an appropriate professional move. We don't need bad actors in Congress and Newsmax is the place for people with bad acting skills.

— Bbnarlington (she/her) (@Bbnarlington9) March 30, 2021
Bye Felicia, he will not be missed in Congress. He likes to yell to dam much and hear himself talk.

— Raymond Mondragon (@Raymmondragon) March 30, 2021
This is the kind of news I like to see.

Scoop: Matt Gaetz eyes early retirement to take job at Newsmax….

— JEFFREY LEBOWSKI (@JEFFREY80957632) March 30, 2021
Interestingly, Rep. Matt Gaetz's departure from Congress to join Newsmax will simultaneously raise Congress' IQ while lowering Newsmax's

— County Clare Observer (@county_clare) March 30, 2021
Matt Gaetz and Newsmax–a marriage made in Hades.

— Jeff Leon (@jeffaleon) March 30, 2021
This rumor about Matt Gaetz leaving Congress for a gig at Newsmax has got to be true. Many people are saying that they've already begun to equip the cameras with special wide-angle lenses to accommodate his gigantic sixhead. https://t.co/1ixqDbC9iN

— 💀 Scary Larry 💀 🇺🇸🌊✊🏻🗽 (@StompTheGOP) March 30, 2021
This is a really dumb thing to do, which is exactly why I think it's going to happen

— Noble Prize in Sarcasm (@rewegreatyet) March 30, 2021
Not surprised. Congressman Matt Gaetz has passed zero pieces of legislation beyond naming a post office after someone.

He's not a legislator. He's a lying performance artist, so of course he'll fit in at Newsmax. And he'll get paid well as they try to become the new Fox News. pic.twitter.com/fb0jgpLWL2

— Russell Drew (@RussOnPolitics) March 30, 2021
Bub bye., asshole. pic.twitter.com/llcDNg1iuZ

— Jo (@JoJoFromJerz) March 30, 2021
Pundits, lobbyists, consultants, OH MY!

— LJ Hutchinsuch (@Cleft_Music) March 30, 2021
Actually, he looks exactly like Butthead..not kinda, not similar but an exact replica..

— Dee (@Magpie4Life1892) March 30, 2021
Or attend Trump university ??

— tipickleman (@tipickleman) March 30, 2021
I'm down with that. Doesn't he already spend all of his time in front of cable news cameras?

— Rob Christ (@skamaniabob) March 30, 2021
I am surprised he is not going to Fox given they have him on every night. But seriously the guy hasn't ever been a legislator.He has used his role in Congress purely as an audition for a job in conservative media.He only was ever interested in the performative aspects of the job.

— Jeff Leon (@jeffaleon) March 30, 2021
I don't want to get my hopes up, but I hope he leaves.

— Ned James (@Ned_James2) March 30, 2021