Marjorie Taylor Green Could Face Assault Charges For Kicking 18-Year Old Activist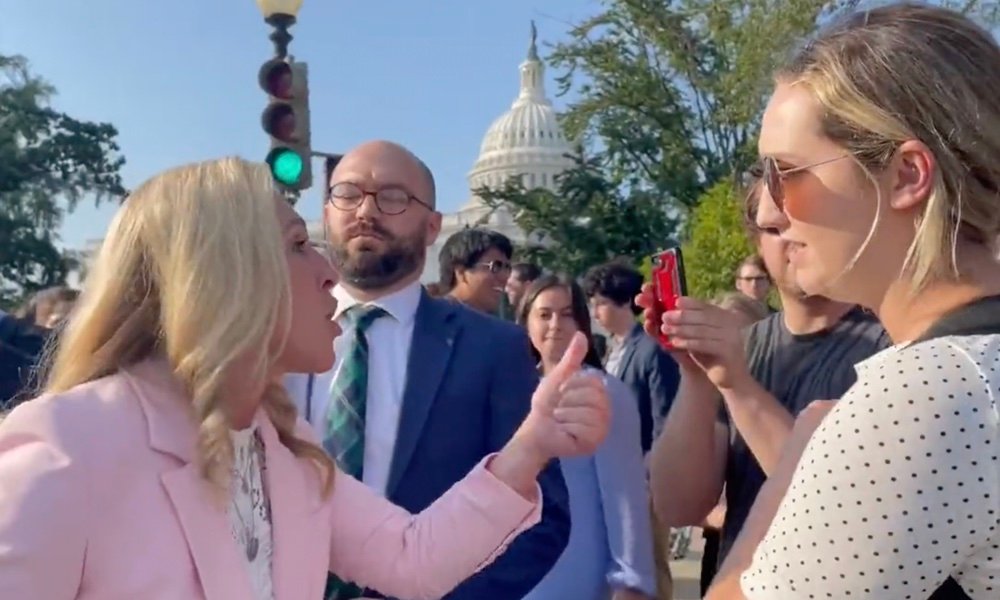 On Thursday afternoon, Rep. Marjorie Taylor Greene (R-Ga.) appeared to kick an 18-year-old Gen Z activist who was asking question about the congresswoman stance on gun violence outside the Capitol.
As reported by The Washington Post, Greene "at first appeared to step on demonstrator Marianna Pecora's foot" and then "appeared to intentionally draw back her foot and aim for Pecora's leg."
"Oh my God," Pecora said in response.
Pecora is the deputy communications director of the Gen. Z group Voters of Tomorrow and was with the group's executive director, Santiago Mayer, when the incident occurred.
Asked about whether Pecora will press charges, Mayer said they are in communication with their our legal team and keeping our options open."
"I'm so sorry but I don't think it's unreasonable to expect members of Congress to not kick an 18 year old citizen," Pecora said earlier.
"Think about the fact that a bunch of kids having meetings in Congress held themselves with better composure than a full grown adult and sitting member of Congress. Put a little more faith in Gen Z. Please and thank you," she added.
The group issued a statement to reporters saying they were fed up.
"Far-right Congresswoman Marjorie Taylor Greene has spent her time in office launching attacks against our democracy and the young people who will soon inherit it," the group wrote in an email to media outlets.
The group added: "This afternoon, she took her offenses to another level, as she physically and verbally attacked members of our team. In addition to yelling at our Executive Director, a Mexican immigrant, to 'go to another country,' she physically assaulted another young staffer. Gen Z is fed up with politicians who continue to put our lives in danger, and this aggression is one of the most visible examples yet of what we are up against."
These foolish cowards want the government to take away guns & the rights of parents to defend their children in schools.

You have to be an idiot to think gun control will create a utopian society where criminals disarm themselves and obey the law.

"Gun-free" zones kill people. pic.twitter.com/1T37HH8jEO

— Rep. Marjorie Taylor Greene🇺🇸 (@RepMTG) September 15, 2022
Did she literally just tweet out the video of her kicking me? https://t.co/b6blmrskRF

— Marianna Pecora (@MariannaPecora) September 15, 2022