MAGA Rioter Jacob Chansley Sentenced to 3.5 Years In Prison For Role In US Capitol Attack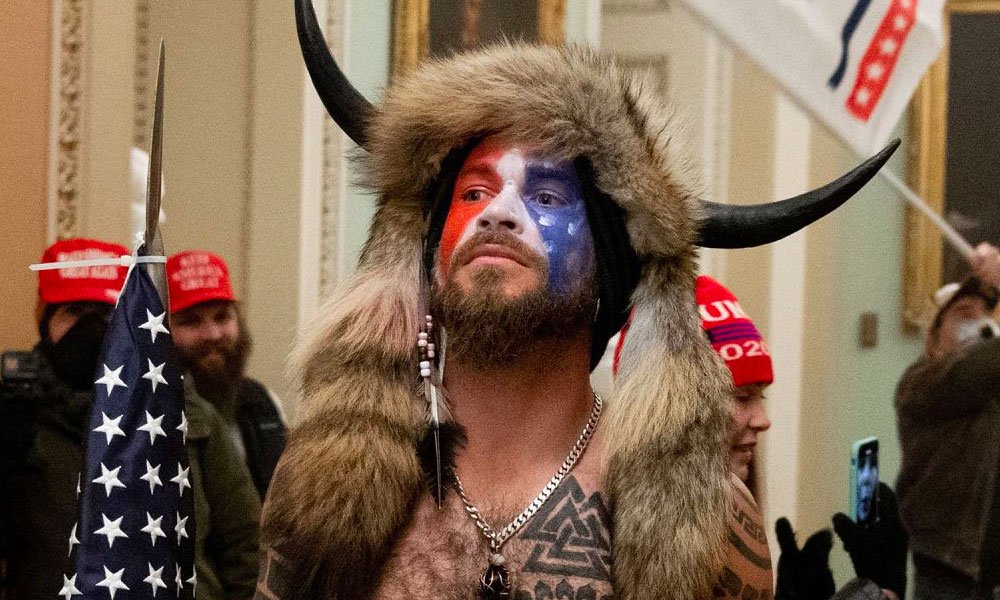 On Wednesday, Capitol rioter Jacob Chansley, the so-called "QAnon Shaman," was sentenced to 41 months in prison for his role in the deadly US Capitol riot on January 6.
Chansley gained fame in the fringe online movement after widely shared photos that captured him wearing face paint and horns, shouting into a bullhorn inside the Senate chamber. He was portraited by prosecutors as "as emblematic of a barbaric crowd" that stormed the Capitol, CNN reports.
Prosecutor Kimberly Paschall used several videos to show Chansley's entrance into the Capitol building and Senate chamber, yelling along with the crowd. "That is not peaceful." Paschall called his role in the mob "chaos" and "terrifying."
"He made himself the image of the riot, didn't he?" Judge Royce Lamberth said to Chansley's defense attorney prior to sentencing. "For good or bad, he made himself the very image of this whole event."
Chansley spoke to Lamberth for over 30 minutes about the impact jail has had on him, and the guilt he feels for breaking the law. He said he was wrong to enter the Capitol on January 6, and that he is not an insurrectionist or domestic terrorist.
"The hardest part about this is to know that I'm to blame. To have to look in the mirror and know, you really messed up. Royally," Chansley said, according to CNN.
As noted in the report, "other judges are likely to look to Lamberth's sentence as a possible benchmark, since Chansley is one of the first felony defendants among more than 660 Capitol riot cases to receive a punishment."