Kemp Lashes Out At Biden For Opposing Georgia's New Voting Restrictions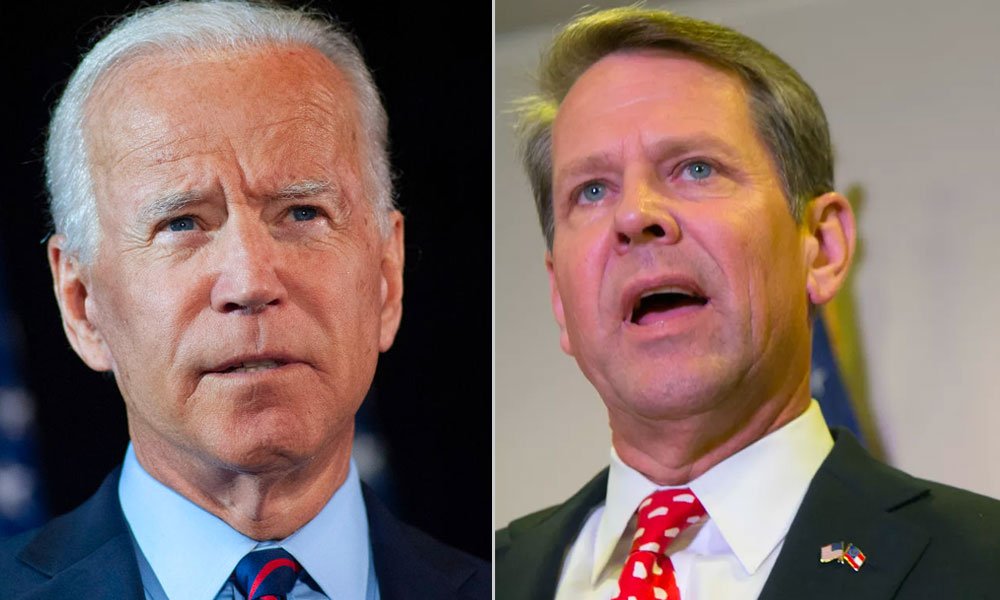 Georgia Governor Brian Kemp slammed President Joe Biden during an interview on Fox News Thursday for his opposition to Georgia's new voting restrictions, calling the president's endorsement of MLB's push to move the All-Star Game out of Atlanta "ridiculous."
After Biden called the new Georgia law "Jim Crow on steroids" Kemp defended the restrictions in a Fox News interview Thursday, pulling out a side-by-side chart comparing voting regulations in Georgia and Biden's home state of Delaware.
"When the president of the United States says something, you know a lot of people pay attention. But what Joe Biden needs to do is look at the side-by-side of Georgia and Delaware," Kemp said. "He's focused on trying to get Major League Baseball to pull the game out of Georgia, which is ridiculous."
Kemp then went on to compare the two states' voting regulations, at times without crucial context.
He first said that Delaware doesn't have in-person early voting, but Georgia does. However, in 2019, Delaware enacted a law that established in-person early voting starting in 2022.
Georgia Republicans have faced blowback from major Atlanta-based companies, including Delta Airlines and Coca-Cola. Kemp said Thursday that he wouldn't bow to the corporate pressure.
"There is nothing I can do about that," Kemp said. "I not going be bullied by these people. But I'm also not running a public corporation. They'll have to answer to their shareholders," Kemp said.
Watch portion of the interview below: