Grand Jury Drops The Hammer On MAGA Rioter Seen Carrying Confederate Flag During Capitol Attack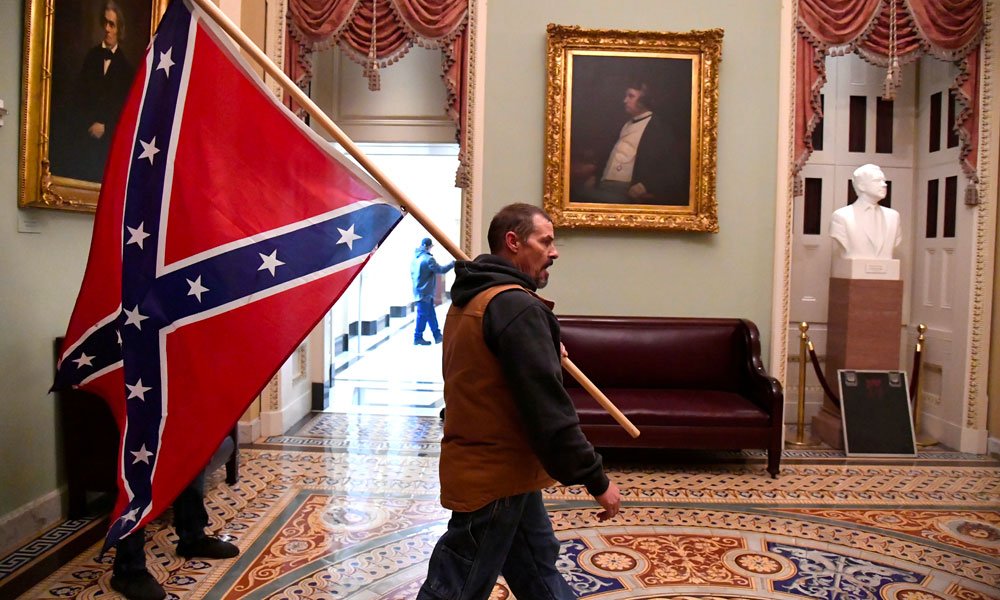 A grand jury on Thursday indicted a Trump supporter who was photographed carrying a large Confederate flag through the halls of the U.S. Capitol during the deadly events of Jan. 6, adding five additional criminal counts to his charges, CNBC reports.
According to the news outlet, Kevin Seefried, seen in viral images carrying the flagpole through the building, as well as his son Hunter Seefried were indicted Thursday on five counts each related to entering restricted federal property and disorderly conduct. Hunter Seefried also faces three additional counts related to destruction of property, according to the report.
The charges follow an initial indictment against the two men in January, when the two Delaware men were arrested and charged with three counts including entering a restricted building, disorderly conduct on Capitol grounds, and violent entry.
According to an FBI affidavit obtained by CNBC, the MAGA rioters were identified by one of Hunter Seefried's coworkers after the younger Seefried reportedly bragged about participation in the deadly riot, during which five people including one U.S. Capitol Police officer were killed.