Driver Plows Into Crowd At Seattle George Floyd Protest, Then Shoots One Protester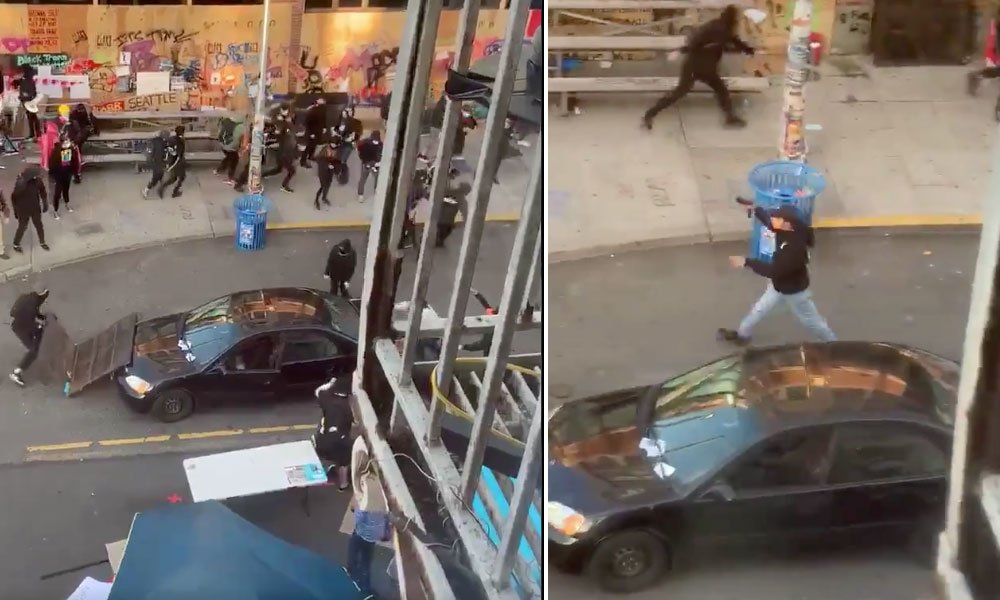 A man drove into a Seattle crowd protesting the murder of George Floyd before shooting one of the demonstrators on Sunday, according to police.
Video shared on Twitter by a bystander at the incident showed a man emerging from a vehicle that appeared to have struck a barricade at an intersection.
The driver appeared to be carrying a gun in one hand as he ran into the crowd. The sound of what appeared to be gunshots could be heard on the video of the incident from the scene.
Watch:
A man drove through 11th and hit a barricade. He exited his car and flashed a gun. The police say they have the man in custody and have the gun. They asked for anybody who is hurt to come to the barricade. A man was on the ground on 11th and Pine. He's up now. pic.twitter.com/47eZZOvG59

— Chase Burns (@chaseburnsy) June 8, 2020
The suspect was detained and the 27-year-old man who was shot in the arm was taken to hospital by firefighters, police said in a tweet.
Suspect in custody, gun recovered after man drove vehicle into crowd at 11th and Pine. Seattle Fire transported victim to hospital. Officers searched, but do not believe there are any additional victims. Will provide updates when available.

— Seattle Police Dept. (@SeattlePD) June 8, 2020
The Seattle protests were among nationwide demonstrations sparked by the death of Floyd, the African American man who was murdered on May 25 by a Minneapolis police officer. Although protesters clashed with police in Seattle, most demonstrations elsewhere in the country over the weekend — including a gathering of thousands at the nation's capital — were peaceful.