Dominion Employee Who Faced Death Threats Sues Rudy Giuliani, Sidney Powell For Defamation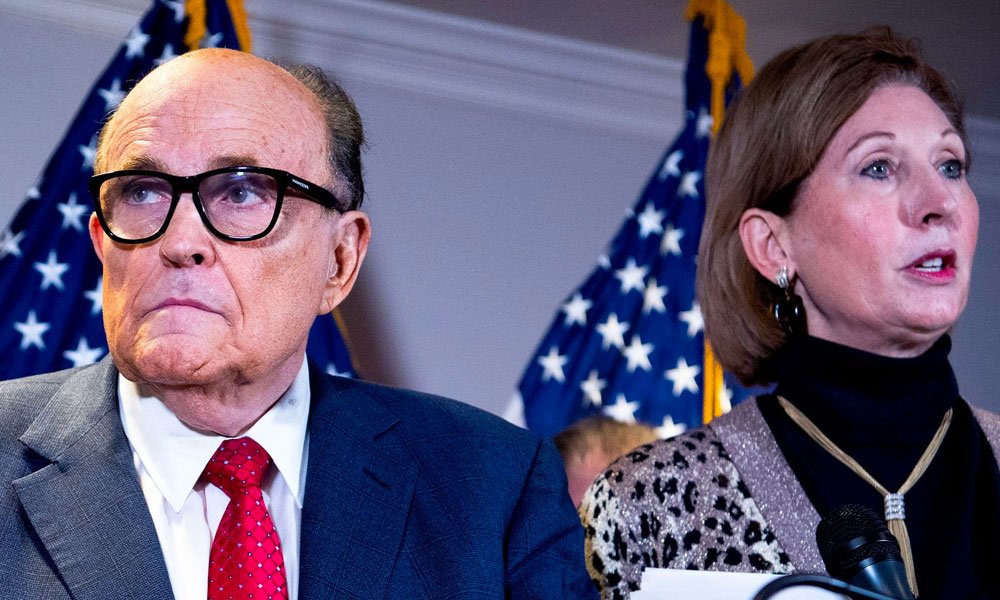 Eric Coomer, a senior employee of Dominion Voting Systems has sued President Donald Trump's campaign and senior associates, including attorney Sidney Powell and the president's personal lawyer Rudy Giuliani, and several right-wing media outlets for defamation, NPR reports.
Coomer filed the lawsuit in the Denver County district court, claiming that defendants, including pro-Trump news outlets One America News Network and Newsmax Media, conspired to defame him and intentionally inflict "severe" emotional distress, leading him to be falsely branded as a "traitor" and subjected to "multiple credible death threats."
Coomer sued the Trump campaign, "Kraken" attorney Sidney Powell and her firm, Rudy Giuliani, One America News Network and its correspondent Chanel Rion, Newsmax, Jim Hoft and The Gateway Pundit, Colorado businessman Joseph Oltmann, Michelle Malkin, and Eric Metaxas.
The lawsuit also claims that Trump's campaign and its agents "manufactured and spread a false narrative" that Dominion "conspired to rig its equipment and the election in favor of President-Elect Biden", which led to "devastating consequences", including death threats which forced Coomer to leave his home for fear of his safety.
Coomer said the allegations against him began with a conservative Colorado activist and podcaster, Joe Oltmann, who is also named in the suit. Several days after the election Oltmann said that he'd infiltrated an earlier call with Denver-area antifa members and heard a man identified as "Eric from Dominion" say he would make sure Trump wouldn't win the election. According to Oltmann, the man said, "Don't worry about the election. Trump is not going to win. I made effing sure of that."
The purported response to that was the origin of the quote attributed to Coomer: "Don't worry about the election, Trump is not gonna win. I made f-ing sure of that. Hahahaha." Coomer's lawyers said that Oltmann has "[a]t no point […] contacted Dr.Coomer to confirm his involvement in this purported call," but instead made "baseless and unequivocally false" claims that Coomer conspired to rig the election:
Finding no credible evidence of Dr. Coomer's involvement in the purported "Antifa Conference Call," Oltmann, instead, used posts on Dr. Coomer's Facebook profile that were critical of President Trump to allege he was the anonymous "Eric." Having no credible evidence of voter fraud, Oltmann used Dr. Coomer's position and employment with Dominion to allege Dr. Coomer was a key figure in a high-level conspiracy to rig the election against President Trump. These statements are baseless and unequivocally false. Dr. Coomer has no knowledge of this alleged "Antifa Conference Call;" Dr. Coomer did not participate in such an alleged call; Dr. Coomer did not make the comments Oltmann alleged were made; and Dr. Coomer did not take steps to subvert the results of the presidential election.
The lawsuit acknowledged that Coomer was critical of Trump on Facebook and had shared satire on the private Facebook account, but said Coomer "did not participate in political groups and did not donate to campaigns."
"Dr. Coomer worked with elections officials—Republican, Democratic, and independents—across the country to make sure the process was safe," the suit said. "The ability to have a political opinion in this country is a protected right. It remains a protected right, even if critical of a sitting president. That criticism does not denote conspiracy or fraud."
Days later, President Donald Trump himself amplified claims about Dominion, citing Chanel Rion and OAN.
From here, the Coomer lawsuit attempted to trace the spread of these various claims across right-wing media, documenting the threats that ensued. The lawsuit repeatedly said that the defendants did not attempt to verify that what Oltmann was saying was true before taking his "Antifa Conference Call" claims and running with them.