DeSantis Bullies Group Of High-Schoolers For Wearing Masks: Report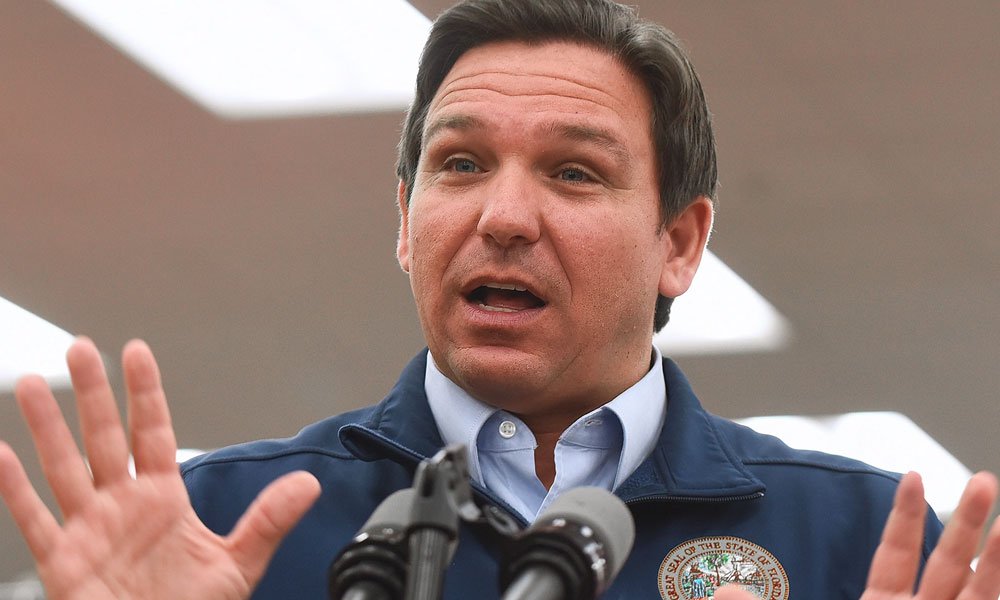 Florida Gov. Ron DeSantis (R) on Wednesday is under fire after he reportedly lashed out at a group of students who wore face masks while he was making a visit to the University of South Florida, local NBC News affiliate WFLA reported Wednesday.
According to the station, DeSantis visited the school to discuss funding for a $20 million cybersecurity program and proceeded to scold the students who stood behind him wearing masks.
"You do not have to wear those masks," DeSantis reportedly told the students before he took the podium that he targeted. "I mean, please take them off. Honestly, it's not doing anything and we've gotta stop with this COVID theater. So if you want to wear it, fine, but this is ridiculous," added the anti-mask governor.
The students, who attend Tampa's Middleton High School, were invited to the press conference, Hillsborough Schools Superintendent Addison Davis told the station.
"We are excited our students from Middleton High School were highlighted as part of the statewide focus around cyber security education," Davis told WFLA. "Our Cyber Security pathway at MHS has had tremendous success through students earning industry certifications, participating in internships and leading the way in computer systems and information technology. As always, our students should be valued and celebrated. It is a student and parents' choice to protect their health in a way they feel most appropriate. We are proud of the manner in which our students represented themselves and our school district."
DeSantis, who has threatened to withhold funding from school districts that implement mask mandate, is pushing for a measure that would allow parents to sue school districts if their child "was illegally forced to wear a mask."
Watch the video below:
we're berating teenagers now? https://t.co/QttyOUcLW0

— Jim Swift (@JimSwiftDC) March 2, 2022
Read more on WFLA News-8