Amid The Lack Of Evidence, Republicans Vow To Subpoena President Biden And His Family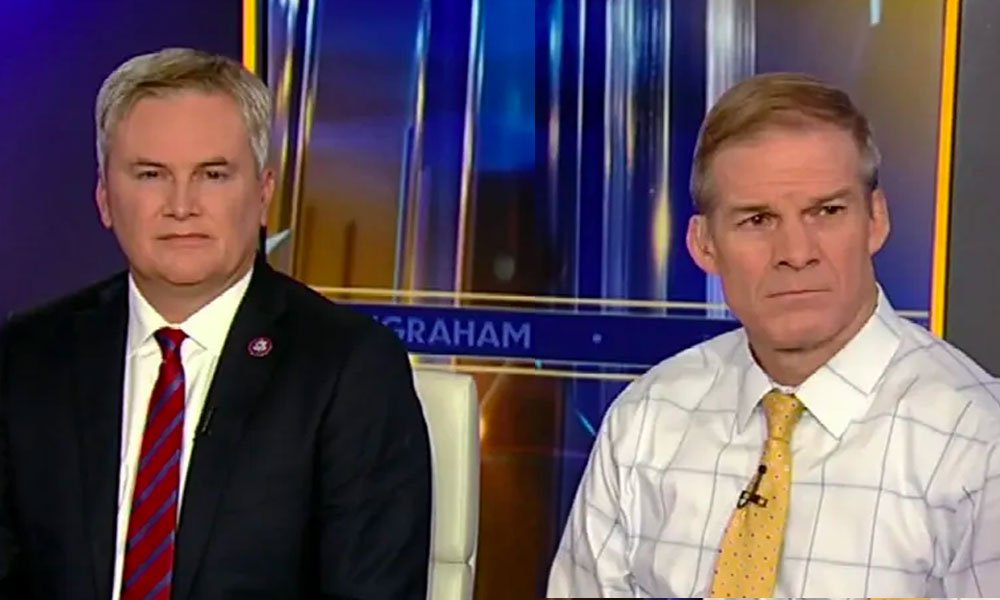 Amid the dearth of substantial evidence indicating wrongdoing by President Joe Biden, Republicans are now asserting their intention to issue subpoenas to the Biden family in hopes of unearthing relevant information.
House Oversight and Accountability Committee Chairman, James Comer (R-Ky.), said that his committee, currently engaged in an inquiry into the international business activities of President Biden's family members, intends to eventually issue subpoenas to the Biden family, and suggested that this move might even involve summoning President Biden himself.
"This is always going to end with the Bidens coming in front of the committee. We are going to subpoena the family," Comer declared Thursday on Fox Business.
"We know that this is going to end up in court when we subpoena the Bidens," he insisted. "So we're putting together a case, and I think we've done that very well. We've shown the bank records. If I had subpoenaed Joe and Hunter Biden the first day I became chairman of the committee, it would have been tied up in court and the judge would have eventually thrown it out. … We have put together a case that I think would stand up in any court of law in America."
Comer's insinuation of issuing subpoenas comes a day after his committee released a third staff memo outlining millions of dollars in foreign funds paid to Hunter Biden and his former associates while Joe Biden was vice president.
However, the memo underscored that the committee has so far only subpoenaed banks tailored to specific individuals and companies, but has not yet requested such records for members of the Biden family. In short, they don't have evidence that Biden received any money.
Comer, however, indicated that subpoenas targeting the Biden family members are not likely to be imminent."
"We want to talk to about three or four more associates first," Comer said. "We've been communicating with a couple of them. We're trying to bring them in just like we did [former Hunter Biden business partner] Devon Archer for a transcribed interview. If they don't come in voluntarily, then they'll be subpoenaed."
The Oversight chairman acknowledged the considerable challenge posed by acquiring information from the president through subpoenas, citing the protracted legal battles that ensued when congressional Democrats sought access to former President Trump's financial records.
"It's very difficult. You know how hard the Democrats tried to get Donald Trump. So this is very difficult," Comer said.
In response, White House spokesperson for oversight and investigations Ian Sams said: "Comer and his fellow extreme Republicans in Congress are now admitting they haven't uncovered any proof of involvement or wrongdoing by President Biden. They simply will continue to spread innuendo and lies as they pursue a baseless impeachment stunt to attack the president."
Sams pointed out to a portion of the memo in which Republicans argued they do not have to show direct payments to President Biden in order to demonstrate corruption.
"House Republicans can't prove President Biden did anything wrong, but they are proving every day they have no vision and no agenda to actually help the American people," Sams explained. "For them, it's all about partisan games and political attacks that serve themselves and get themselves attention on rightwing media – not about taking on the big challenges facing our country."
Take a look a Comer's remarks below.
BREAKING: Rep. Comer announces he will be subpoenaing Joe and Hunter Biden and force them to testify about their scheme to sell Biden influence.

Less talk, more action.

Yesterday, the House Oversight committee released a bombshell report showing how the Biden family received at… pic.twitter.com/FA3LhcMBtd

— Collin Rugg (@CollinRugg) August 10, 2023