Amid Backlash, Marjorie Taylor Greene Blames Chinese Balloon For Wearing $500 Coat To Biden's SOTU Speech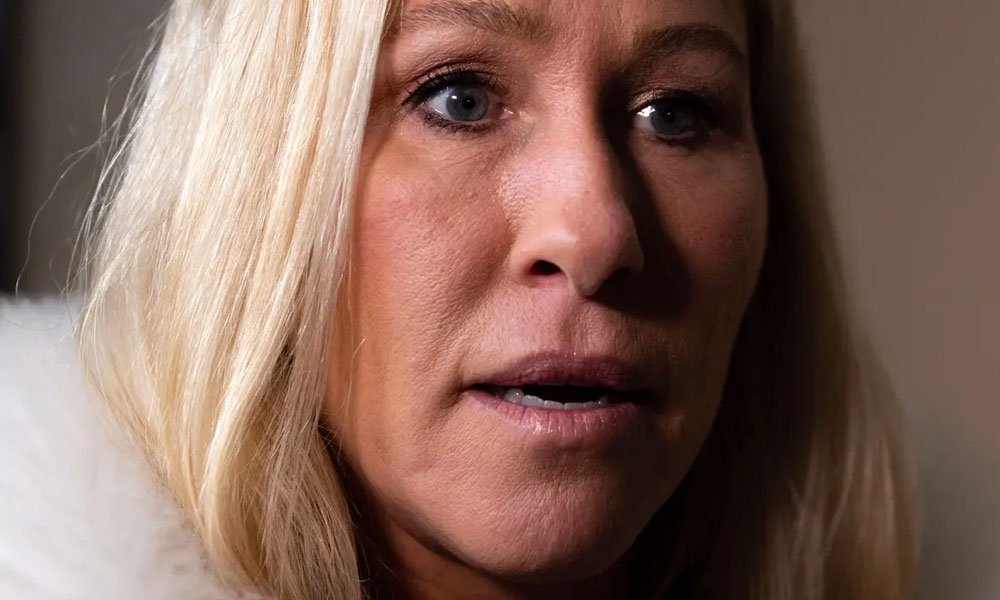 Rep. Marjorie Taylor Greene (R-GA) on Wednesday claimed that the reason she wore a $500 white fur trim coat to President Joe Biden's State of the Union address was to call attention to the Chinese spy balloon that was shot down by the US military last week.
The far-right congresswoman made headlines on Tuesday for yelling at Biden during his speech before a joint session of Congress. But it was her distinctive coat that drove much of the conversation on social media, with some Twitter users mocking her look as reminiscent of Disney villain Cruella de Vil.
Amid a backlash for flaunting a lavish lifestyle, Greene's office put out a statement claiming that she "wore her outfit to highlight something President Biden refused to address in his speech, the white Chinese spy balloon."
"Biden refused to mention it, just like he refused to stop the intelligence gathering operation that traversed the United States and surveilled some of our most important military facilities in the country," Greene spokesman Nick Dyer said, according to The Hill.
While Biden didn't explicitly mention the suspected Chinese spy balloon during his State of the Union address, he did nod to his decision to shoot it down last week.
"I am committed to work with China where it can advance American interests and benefit the world," Biden said.
"But make no mistake: as we made clear last week, if China's threatens our sovereignty, we will act to protect our country. And we did," the president added.
GOP lawmakers, including Greene, have criticized Biden for being slow to act in taking down the balloon days after it was discovered hovering across the U.S. Biden said he followed military advice to shoot it down when it was safe to do so.