Matt Gaetz Introduces Bill To Eliminate Tracking Of Online Activity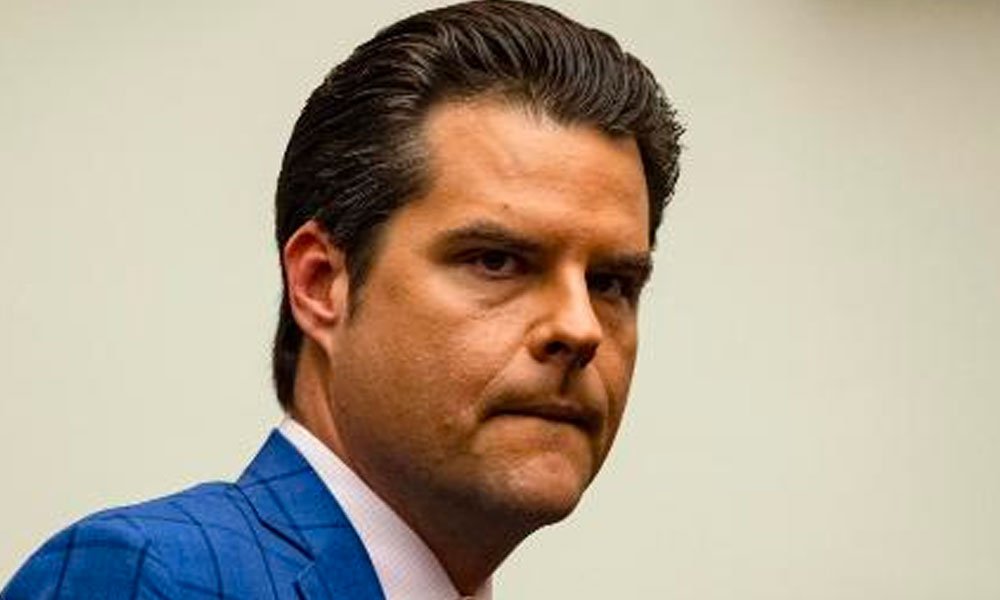 Rep. Matt Gaetz (R-Fla.) and a group of radical extremists in the Republican party have introduced legislation to end a program that carries out online surveillance.
The move comes after a March bulletin by the Postal Service's Inspection Service's Internet Covert Operations Program (iCOP) cited concerns about potential "significant" protests planned for March 20 based on "online inflammatory material" and posts on social media platforms Parler and Telegram.
"iCOP analysts are currently monitoring these social media channels for any potential threats stemming from the scheduled protests and will disseminate intelligence updates if needed," the agency wrote in the bulletin, Yahoo News reported.
In response, Gaetz teamed up with GOP Reps. Marjorie Taylor Greene (Ga.), Paul Gosar (Ariz.), Louie Gohmert (Texas), Andy Biggs (Ariz.), Scott Perry (Pa.), Greg Steube (Fla.), Ken Buck (Colo.), Tim Burchett (Tenn.) and Thomas Massie (Ky.), introduced a bill demanding an ending to the surveillance program, according to The Hill.
The new legislation would prohibit federal funds from being used for iCOP. The legislation's text accuses the organization of being "politically motivated in its target," and the USPS of "operating a clandestine domestic surveillance program of Americans' social media activity."
"The Postal Service should deliver the mail on time and on budget," Gaetz said in a statement Friday, The Hill reports.
"They shouldn't have a covert surveillance program to monitor social media political behavior, protected by our cherished Constitution," he said. "As the dangers of government surveillance and targeting become ever the more clear, especially to conservatives, Congress must immediately abolish this program."
As noted by The Hill, Gaetz is currently under investigation by the Justice Department in connection with sex trafficking allegations.
The Florida Republican, along with several of the co-sponsors have accounts on Parler, a right-wing social media platform removed from both Google's and Apple's app stores in the wake of the Jan. 6 storming of the U.S. Capitol for content moderation concerns.