After Seeing Their Trump Predictions Go Up In Smoke, QAnon Shifts To More Dangerous Conspiracy Theories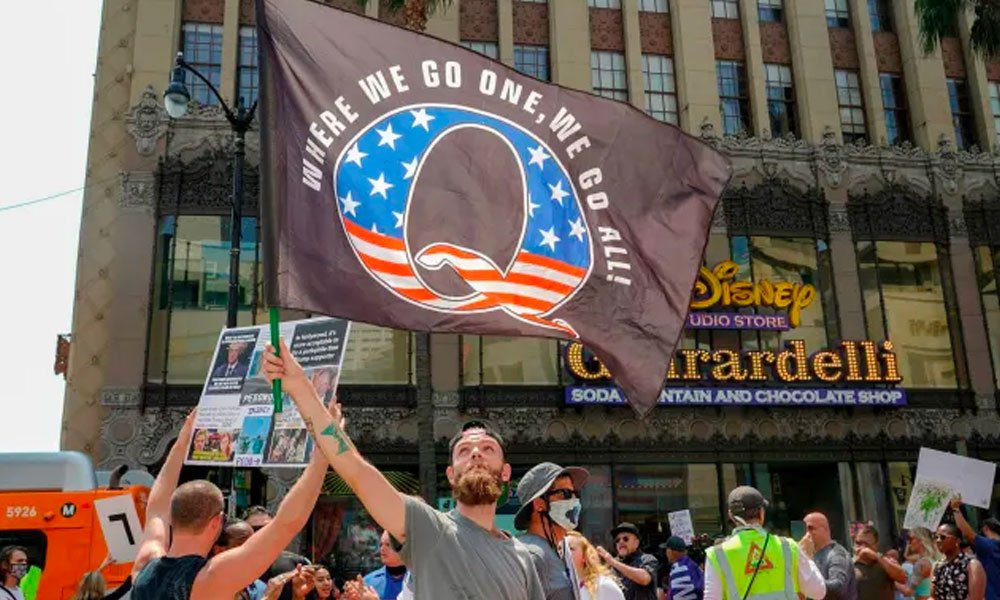 After seeing their conspiracy theories about the 2020 elections go up in smoke, and their predictions about former President Donald Trump returning to power amid a historical mass arrest and public execution of Democratic pedophiles never materialize, the QAnon movement is finding consolation in spreading even more dangerous conspiracy theories, experts warn.
US experts who study extremism are warning of a concerning shift in the QAnon movement, where conspiracy theories are beginning to fuse anti-Chinese and anti-Jewish tropes with worries regarding vaccines and a global plot to take over the world, The Los Angeles Times reported on Wednesday.
This QAnon "rebranding" shifts the movement away from the conspiracy theories that involved the 2020 election and their efforts to keep Trump in office. This shift to an increased suspicion of Asians and Jews, however, could lead to more violence, the Times noted, citing researchers, the Times wrote.
Experts said the QAnon movement is grasping onto other conspiracy movements in an effort to remain relevant.
Joel Finkelstein, the director of Rutgers University's Network Contagion Research Institute, told the newspaper that QAnon is moving toward what is broadly collected under the idea of a "new world order."
"A large portion of the racially charged conspiracy rhetoric at the beginning of the virus shutdowns had an anti-Asian sentiment and focused on the virus originating in China," Finkelstein explained, according to the Times.
Since the election, however, the anti-Asian dialogue has moved to concerns about worldwide dominance, specifically a communist overthrow of governments perpetrated by wealthy Jews, Finkelstein said.
In this scenario, the Times noted, President Biden is seen as a "pawn of these elites."
"The latest round seems to be motivated by the political dominance stuff," Finkelstein said, according to the Times. "There is a huge component of this that China is taking over."
"They are unifying under a giant umbrella of a common enemy. Sometimes it's the Jews. Occasionally it's the Asians, usually it's the government," Finkelstein said, according to the Times. "What is happening is they are fishing for different issues to cause violence with."
Extremist experts said that this transition of QAnon's focus, while expected, will have a lasting impact on American politics, the Times wrote. They said that based on the current nature of the movement, lies, racism and propaganda will continue to have "staying power" in American politics.