Adam Schiff Confronted Kevin McCarthy On The House Floor For Blatantly Lying About Their Conversation About Jan 6 Probe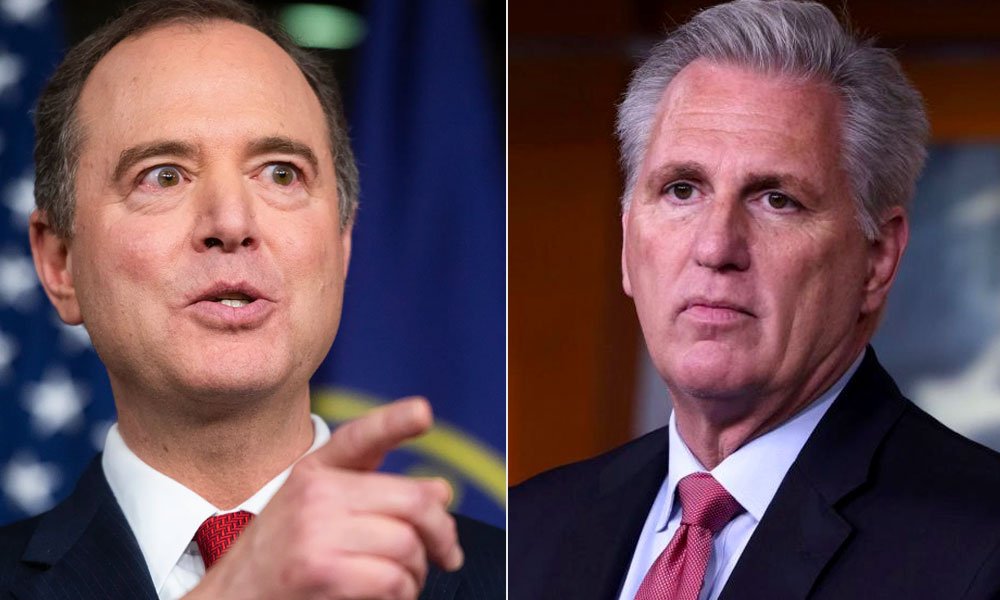 Democratic Rep. Adam Schiff (D-CA) said Tuesday that he confronted House minority leader Kevin McCarthy (R-A) for lying to reporters about their conversations and had no explanation when confronted.
During an interview on MSNBC's "Morning Joe," Schiff said his Republican counterpart's willingness to lie without shame was part of the broader problem afflicting U.S. democracy since Donald Trump entered politics.
The California Democrat also said that rooting out that threat was the purpose of the House investigation of the Jan. 6 insurrection.
"On this select committee, we are of one mind. Anyone who does not comply [with subpoenas] we will refer for criminal prosecution, and there needs to be accountability," Schiff said. "It really is essential for us to bring our democracy back from the brink, that we once again have our rules applied equally to everyone."
"One of the things that terrifies me about the upcoming midterms is we need to make sure that the party in power believes in the rule of law," he added. "One of the stories I tell about Kevin McCarthy is, I was sitting next to him on a plane having a private conversation and then him going to the press and telling the press the exact opposite of our conversation, and when I confronted him on the House floor about this and said, 'Kevin, you know I said the exact opposite of what you told the press,' his answer was to me, 'Yeah, I know, Adam, but you know how it goes.'"
Schiff said that moral corruption flows down from the former president and has infected much of the Republican Party.
"We cannot have a leadership in Congress that has no commitment to the truth, that shares Donald Trump's willingness to falsify and lie about everything and so this, too, is what puts us in peril," he said. "I think of all the damage that Donald Trump did to our democracy, the most corrosive was this relentless attack on the truth."
Watch the interview below, via MSNBC.