White Landlord Sparks Backlash For Evicting Black Business Owners After Seeing Them Supporting George Floyd Protests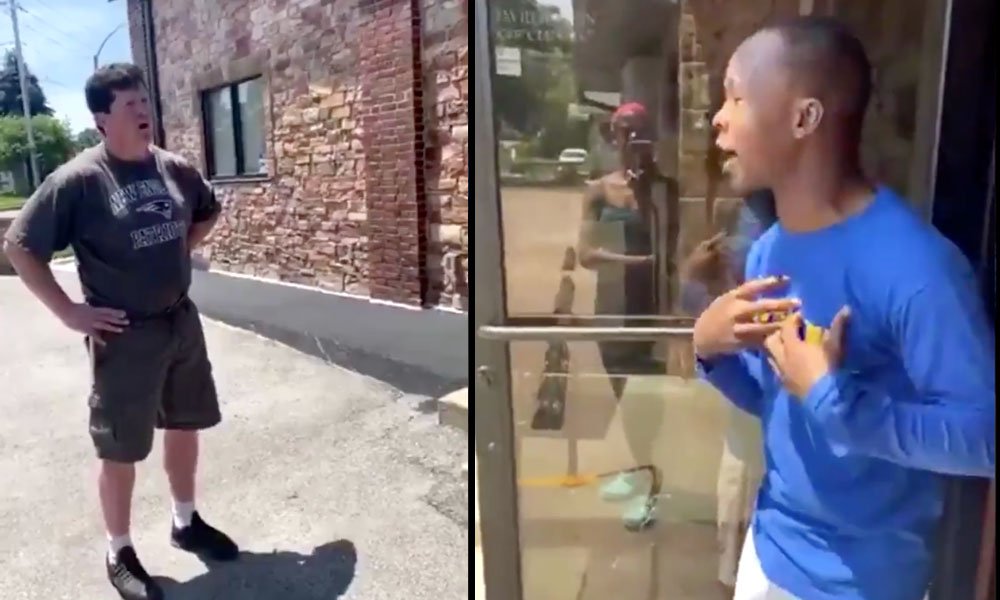 A white landlord in Iowa is facing backlash after being caught on video evicting black business owners after he saw their employees supporting Black Lives Matter on the news.
"We got kicked out from our business office space by our landlord cuz he saw us on the news peacefully protesting," Stylent CEO Jeremiah Johnson revealed on Twitter. "Violating our 1st amendment rights and the lease. Please share this video! When other people protest for haircuts, it's great! But when I protest peaceful it's bad!!"
The widely shared video shows the landlord explaining his decision to evict the business, arguing that employees of the business were wrong to be protesting in an area where looting was also occurring.
"I was protesting the right way," Johnson says in the video.
"I will tell you flat out," the landlord opines, "if there's something illegal going on at a place that I'm at, I don't want to be a part of it. I'm personally going to leave."
He added: "All I'm saying is I think it's poor judgement to be at a place where something illegally is going on," the landlord continues. "Whether you are a part of it or not."
"We didn't think that was going to happen," the business owner says. "We were there for a peaceful protest."
Twitter users were quick to condemn the landlord's actions:
These were the pictures he saw on the news that made him think we were doing criminal acts. I'll never support looting because I own small businesses in the U.S and back home in my country Liberia. I'll always stand up for what's right regardless of what a rich guy thinks pic.twitter.com/AqlaO4zYp7

— Jeremiah Johnson (@jeremiah_miah11) June 7, 2020
If you were here in the UK, we'd share some space with you at our place. We hope you get sorted and find a nicer landlord 🤝

— Zap! Creatives (@ZapCreatives) June 7, 2020
Sue them!!!

— 🅼🅾Æ🅾🅽-12 (@cubharris) June 7, 2020
This is illegal and infuriating. We need to find you legal consul.

— The Young Turks Are Old AF (@FightTheFascist) June 7, 2020
Wow that is not acceptable

— Dizzy Bluestone (@dizzybluestone) June 7, 2020
You can sue them !!

— Barbie 💋 (@yemifine) June 7, 2020
So if that silly man goes to the bank and there is a bank robbery he should be evicted from his home because he made a conscious choice to go where there may or may not be illegal activity. Right? Am I understanding his argument?

— Dawn of a (hopefully) new day (@DawnMSchnake) June 7, 2020
First of all I'm 100% sure this is illegal..

Get a good lawyer don't fight yourself.. you may be able to find he is in violation of many things you can sue him for..

Start a go fund me so we can help with legal costs

— . (@xgiirlll) June 7, 2020
This is actually unlawful, and the landlord should be challenged in a court of law. Once again bias discrimination at work. With all the protests happening around the country, we must fight against this type of behavior. Find your local/federal courthouse, ask for lawsuit papers!

— Hopefaithlove91 (@Hopefaithlove93) June 7, 2020
Please name your landlord so we know who NOT to deal with. By his logic, if he's at a store and someone pockets something, he should be kicked out because something illegal happened. And if he's at a restaurant and someone uses a fake ID to buy a beer, he should lose his home.

— Vicki Ringer (@vickiringer) June 7, 2020
This is in Des Moines Iowa. He owns an investment business called David Harkin- fort Des Moines financial service. But pls, let's not attack him with words or physically. We will settle it the right and peaceful way possible until justice is served.

— Jeremiah Johnson (@jeremiah_miah11) June 7, 2020
Join the conversation in the comments section.