People Are Calling For The Arrest Of Marjorie Taylor Greene After Ugly Confrontation With AOC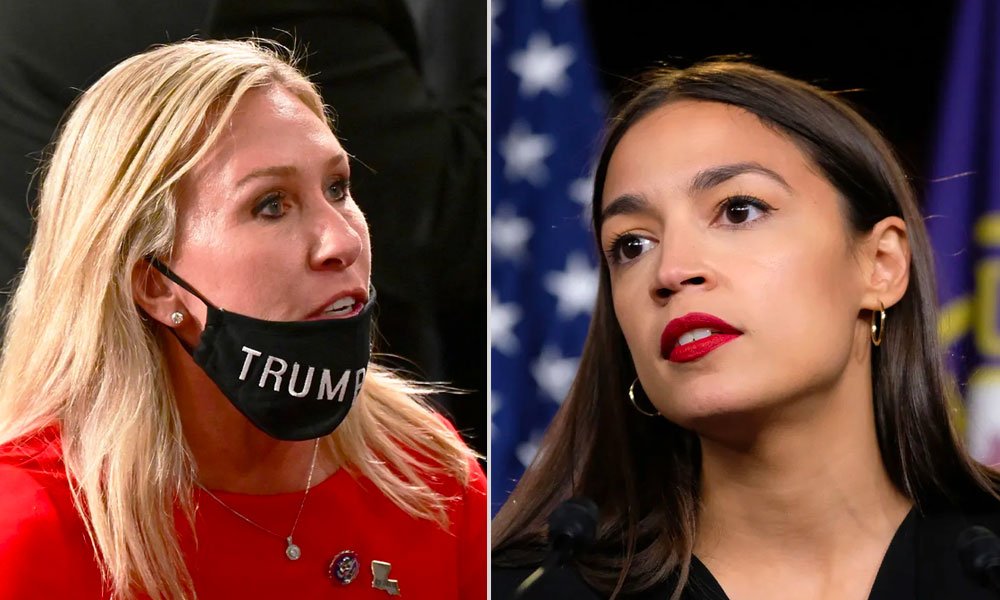 GOP Rep. Marjorie Taylor Greene is under fire with people calling for her arrest after the QAnon fanatic raised safety concerns inside the U.S. Capitol as she aggressively confronted Democratic Rep. Alexandria Ocasio-Cortez (D-NY) outside the House chamber, calling her a "terrorist" sympathizer.
The incident was reported by two Washington Post journalists who overheard the Georgia Republican twice call out to Ocasio-Cortez by her first name, and the New York Democrat kept walking, so Greene picked up her pace and shouted accusations at her colleague and demanded a public debate.
"You don't care about the American people," Greene shouted. "Why do you support terrorists and antifa?"
Ocasio-Cortez threw up her hands in exasperation, and her office contacted the Sergeant at Arms to discuss security inside the Capitol after the Jan. 6 insurrection.
Greene's abhorrent actions were widely condemned on social media.
#MarjorieTaylorGreene aggressively confronts Rep. Ocasio-Cortez, causing @AOC to call on Capitol Police to do their jobs & prevent Rightwing aggression. Greene should be immediately arrested. Of course, it will not happen, given CP's absolute ineptness.https://t.co/OQMQAoCfLN

— 𝘾𝙤𝙤𝙡 𝘽𝙡𝙪𝙚 Persuasion 🆒💙🗽🇺🇸⚠️⚠️ ⚠️ (@SonOfAlgos) May 13, 2021
Marjorie Taylor Greene chased Rep. Alexandria Ocasio-Cortez yesterday like she was a school shooting victim outside the House chamber screaming things about "terrorists" & "antifa" while AOC ignored her.

Could someone tell Marge that she's just not that into you? GROSS!

— Kyla In The Burgh 🏳️‍🌈🏴‍☠️ (@KylaInTheBurgh) May 13, 2021
Marjorie Taylor Greene calling Representative Ocasio-Cortez a terrorist sympathizer is akin to the cheating spouse who assumes their partner is unfaithful.

— stonecircle (@stone_circle) May 13, 2021
It's driving Marjorie even more batshit crazy that she can't get under the skin of Rep. Ocasio-Cortez. The Republican Party is the true "terrorist sympathizer" otherwise Greene would have been expelled months ago.

— Mel the Enforcer (@Fah_Lo_Me) May 13, 2021
Rep. Marjorie Taylor Greene is a f**king attention seeking QAnon idiot who appears afraid of and lashes out at those who make her look stupid, which would definitely be Rep. Alexandria Ocasio-Cortez and anyone else with a brain. https://t.co/Obyq0uwSld

— DorindaAVYS (@AvysDorinda) May 13, 2021
Rep. Ocasio-Cortez knows ignoring Marjorie Greene will drive her completely nuts

It's like a high school bully trying to gain popularity & value by attacking popular girl pic.twitter.com/hmCcNwLoHD

— Susan🌊✌ (@SusiWestland990) May 13, 2021
Marjorie Taylor Greene doesn't realize how ridiculously stupid she sounds when she accuses Rep. Ocasio-Cortez of supporting terrorists. Remind me again, who supported the Jan 6th terrorists?

— Amy Lynn ✡️🐝 (@AmyAThatcher) May 13, 2021
The actions of MTG are going to cause violence. @SpeakerPelosi WHAT are YOU going to do about this TODAY?

Rep. Greene aggressively confronts Rep. Ocasio-Cortez, causing New York congresswoman to raise security concerns https://t.co/YYajCmnNJG

— Susan Gross (@pricklyeater) May 13, 2021
Hey Kev @GOPLeader, you better get a handle on the House Witch Marjorie Taylor Greene.
The chaos and mayhem is what she lives for and frankly after her behavior towards Rep Ocasio-Cortez, we all should be concerned.
There are a lot of good people in that chamber, be mindful.

— W. Marc Paine (@ReplaceTheHate) May 13, 2021
She is projecting. The new strategy to get people to forget they tried to overthrow the government.

— GaFlsoul456 (@flsoul456) May 13, 2021
This woman is the perfect representation of the uncivil, confrontational, bigoted degradation of our society.

Rep. Greene aggressively confronts Rep. Ocasio-Cortez, causing New York congresswoman to raise security concerns https://t.co/peCrhpqL8P

— BDkinss -WearADamnMask-🌊🇺🇲 (@BDkinss) May 13, 2021