Nikki Haley Drowned In Mockery After Suddenly Turning On Trump: 'Burn In Hell!'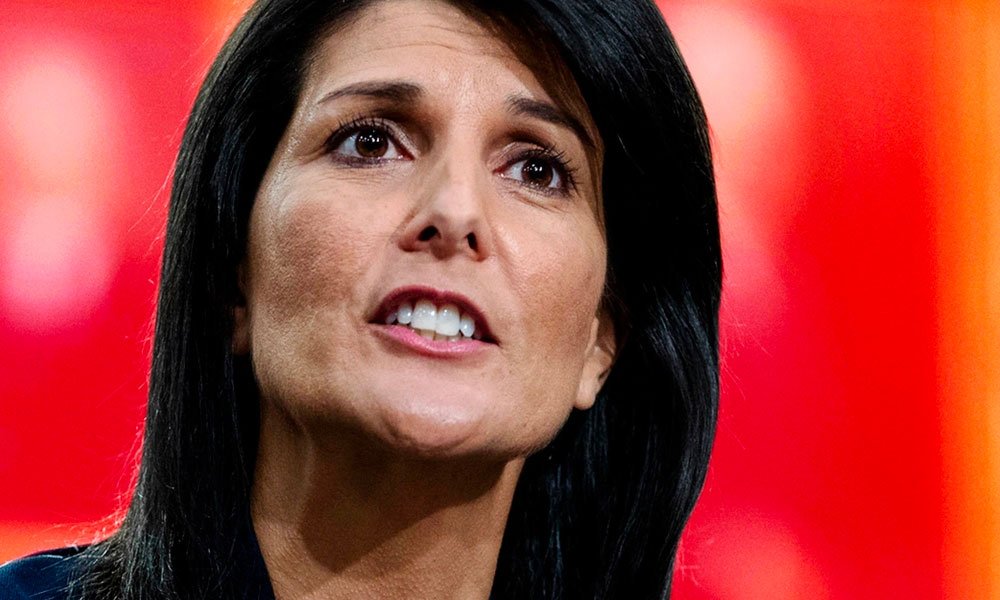 Former U.N. Ambassador Nikki Haley, a Republican, is being mocked on social media after abruptly claiming that "it was a mistake to follow Donald Trump" now that he has been made to look worse than ever by videos shown at his second impeachment trial.
During an interview with Politico's Tim Alberta, Haley said that she didn't think Trump would be a significant figure in the Republican Party going forward, and she admitted it was a mistake for the GOP to help him in his efforts to overturn the 2020 election.
"He went down a path he shouldn't have, and we shouldn't have followed him, and we shouldn't have listened to him," the former South Carolina governor told Politico. "And we can't let that ever happen again."
But she also insisted that she was proud of the work she had done for the former president, and claimed that something fundamentally changed in him after he lost the election.
"I mean, I'm deeply disturbed by what's happened to him," she said. "Never did I think he would spiral out like this… I don't feel like I know who he is anymore… The person that I worked with is not the person that I have watched since the election."
Internet users accused Haley of trying to clean up her reputation after whole-heartedly backing Trump for the past four years.
Check out some of the responses below:
Also Nikki Haley last month on Donald Trump and impeachment: "I mean, at some point, I mean, give the man a break. I mean move on."

— Willie Geist (@WillieGeist) February 12, 2021
Too little too late. She's as manipulative as the rest of them…she has end game…they always do.

— Tracy Hankins (@TracyHankins7) February 12, 2021
Didn't she just say basically we should give him a break? #GQPTraitorsToDemocracy

— Avid Dog Lover (@PatAaron10) February 12, 2021
Yeah, but she's that quiet articulate voice, looking like our sisters and mothers, convincing us she is someone else.
Be prepared to stop her in her tracks early before she gets her cult together. Too late, Nikkiepoo.

— Mary F C (@MaryFC14728250) February 12, 2021
Yet @NikkiHaley fought like hell for another 4 years of Trump. All it will take is one mean tweet from @DonaldJTrumpJr for her to be back on the Trump Train.

— Amy Rovin (@MomRovin) February 12, 2021
Sorry @NikkiHaley but we have the receipts.

The receipts: video, audio, & the tweets where you gambled away your soul, ironically betting on a guy who bankrupted multiple casinos.

I hope when you watch your political career evaporate you can at least appreciate the irony. pic.twitter.com/5EM0A7qitF

— Lisa (@LisainNJUSA) February 12, 2021
Too little too late. She should never serve in any office in engaging the public trust. Unlike people like Scaramucci, who worked in the Trump Admin. for 11 days, realized the kind of person he was working for.

She doesn't get that same opportunity defending Trump for years.

— Phillip Davis (@Phil_Davis_) February 12, 2021
"Give the man a break" will follow you into the history lessons and classrooms across the country. Whenever teachers show the opening video from the impeachment trial.

— Dr. Mel (@FretodrmMel) February 12, 2021
She like the rest of the gop didn't want him impeached, not because they think he is innocent but because they know he is guilty, they knew it would be all laid out and everyone would know they were prepared to ignore it.

— Mark webster (@Markwebster17) February 12, 2021
"We need to acknowledge he let us down" ?

Is she kidding?

He "let us down".
1/6 "was not great".
This is not a serious person. She does not have the strength to even acknowledge the gravity of what he has done nor the wisdom to see that he would gladly do it again.

— HappyHarpy (@amanthat) February 12, 2021
LOL. She's gaslighting. This is what actually happened. https://t.co/fkZ5aVHdqf

— Murray (@katz_murray) February 12, 2021
I'm not okay with it. They can both burn in the bad place.

— Just a girl (@PolySigh216) February 12, 2021