McEnany Buried In Mockery After Complaining That 'Everyone Is Against Us'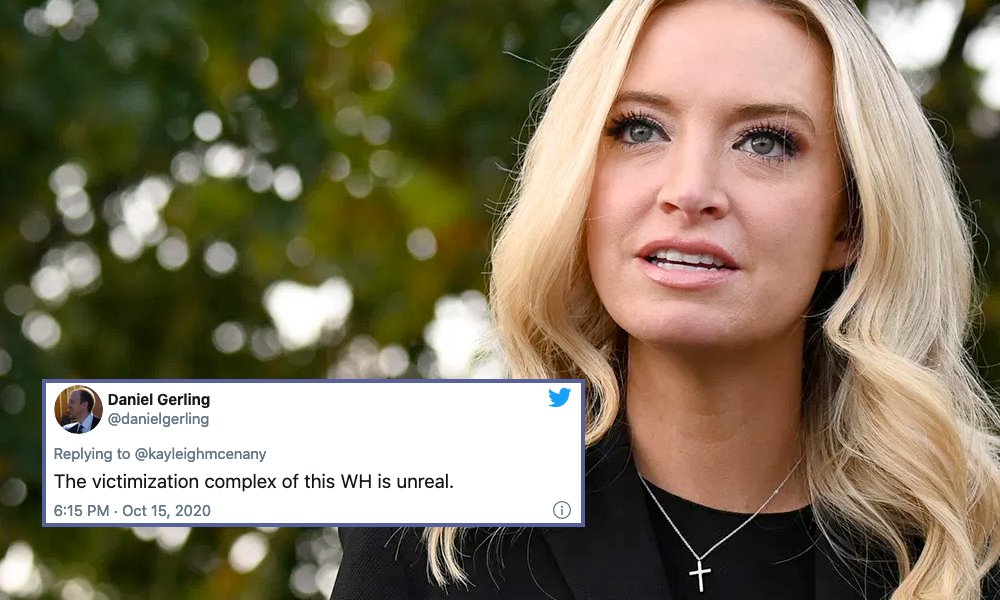 After being blocked on Twitter for a day for sharing misinformation, White House press secretary Kayleigh McEnany took to the social media platform again to complain about the entire country being against Donald Trump and his team.
McEnany tweeted the following:
TWITTER is against us.

THE MEDIA is against us.

BIG TECH is against us.

THE SWAMP is against us.

THE DEEP STATE is against us.

THE HOLLYWOOD ELITE is against us.

CHINA is against us.

But President Trump has the WORKING MAN AND WOMAN and NOTHING can beat that‼️

— Kayleigh McEnany (@kayleighmcenany) October 15, 2020
It wasn't long before Twitter users buried the Trump associate in mockery for whining. Take a look at some of the best responses below:
To be fair Hollywood Elites James Woods and Clint Eastwood are for you. And Silicon Valley Elite Peter Thiel is for you. Convicted felons Paul Manafort, Roger Stone, Michael Flynn and Trump's old friend and dance partner Jeffrey Epstein as well as the Taliban, Nazis and the KKK.

— Mark Ruffalo (@MarkRuffalo) October 16, 2020
Hi Kayleigh!! Hope you're watching Fox News all weekend. You get to see yourself calling an American patriot a "former junior employee". Enjoy. https://t.co/COfCC3n3Ru

— Fred Wellman (@FPWellman) October 16, 2020
They are hypocrites and just jumping on the Trump bandwagon.. Once he is gone their tone will change.

People like @kayleighmcenany are a part of the real deep state that will say anything that can make them appear "for the people". They are only for themselves

— Shane Hicks (@ShaneHi26552793) October 16, 2020
No one plays the victim like racists and elitists do, in direct response to the bullshit that they do to others. Know what that's called? AN ABUSER.

— BLACK TZEDEK (@BlackTzedek) October 16, 2020
Scratching my head trying to think of one thing he has done for the working men and women of America.

— Marianne Williamson (@marwilliamson) October 16, 2020
You know, Kayleigh, @kayleighmcenany
when EVERYONE is against you it is a good idea to take a good long look at yourself. #BidenHarrisToSaveAmerica 🇺🇸

— mollyswordmcdonough 🌊 (@mollysmcdonough) October 16, 2020
Kayleigh, the entire country and the free world is against you!

— ⭐️ Merrill – sheltering at home ⭐️ (@MerrillLynched) October 16, 2020
Perfect!

— colleen#5 (@colleen96493889) October 16, 2020
The victimization complex of this WH is unreal.

— Daniel Gerling (@danielgerling) October 15, 2020
When you lie constantly, behave corruptly, lack any empathy, competence, integrity or kindness… when you put people in danger and then mock those people. When you care for only yourselves more than anyone else…

Why would you deserve any friends?

— Suzanne Lindbergh (@suzannebuzz) October 16, 2020
And the law. That's coming too.

— John Rosevear 🇺🇸 (@john__rosevear) October 16, 2020
I'd put evangelicals in that pile. I realize there's a good deal of overlap.

— Rick Jurczyk (@Bright11Rick) October 16, 2020
🤣🤣🤣 that's what happens when you LIE to the American people. Girl everything's gonna catch up to you. You're smart enough to at least know that. And stop playing a victim. It's ugly!

— ★ KIMLAI ★ (@KimlaiYingling) October 16, 2020
You can read more replies HERE.
RELATED: Morning Joe Trolls Trump-Supporting 'Snowflakes' For Freaking Out Over White Supremacy Questions At Trump Town Hall