Marjorie Taylor Greene Ripped For Celebrating Fascist Victory In Italy In Misspelled Tweet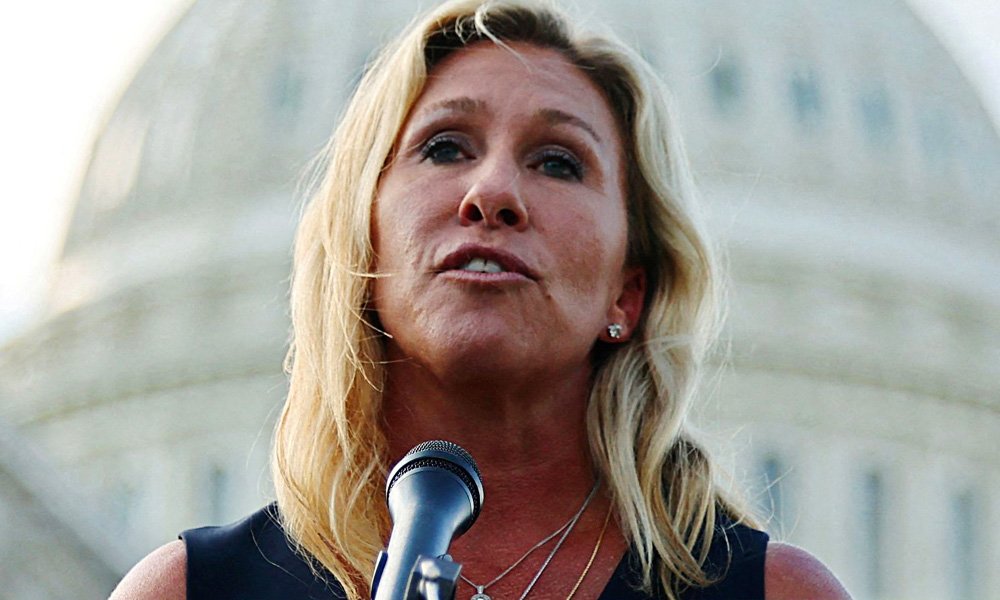 Georgia Representative Marjorie Taylor Greene on Monday celebrated the fascist Fratelli d'Italia party victory in Italy on Sunday only to get pummeled by critics for openly supporting fascism.
As much of the world watched with alarm, Greene and her far-right GOP colleagues applauded Sunday's results, as Italy is on track to elect the most right-wing government since Mussolini after projections suggested a coalition led by fascist leader Giorgia Meloni is set to take power and become Italy's next prime minister.
"Congratulations to Giorgio Meloni and to the people of Italy," Greene wrote on Twitter, misspelling the right-wing leader's first name.
Meloni is well-known to the far-right in the U.S., having spoken at the Conservative Political Action Conference and met with former White House Chief Strategist Steve Bannon, who correctly described Meloni's party—also known as Brothers of Italy—as "one of the old fascist parties."
Her victory appears to be the result of a low voter Turnout. According to multiple reports, it was just 64 percent, down from 73 percent at the previous election in 2018, after heavy rain in many parts of the country.
If the projections and exit polls are confirmed, the fascist party will take control at a critical time for the European Union's third-biggest economy, with Russia's war in Ukraine driving inflation and testing the limits of Western unity against Moscow.
Naturally, Greene's congratulatory tweet was met with disdain by critics.
Check some of the responses below:
So beautifully said.

Congratulations to Giorgio Meloni and to the people of Italy. https://t.co/XdM8U2mFgt

— Rep. Marjorie Taylor Greene🇺🇸 (@RepMTG) September 26, 2022
No surprise you're praising a fascist

— Logan Yenser (@LoganYenser1) September 26, 2022
Italian politics is hardly American politics. It is a totally different culture with a totally different religious type of nationalism. They are all Roman Catholic. You are a Protestant evangelical.

— John Libert PhD Tangled Up In Blue (@JohnCLibert5) September 26, 2022
This is a reminder that the dream of the #AmericaFirst/#ChristianNationalists movement is our country inexorably sliding towards #fascism.
They're not even bothering with dog whistles anymore; they're shouting it from the rooftops. https://t.co/x3bBKTAtUT

— 𝐒𝐧𝐨𝐳𝐳𝐖𝐚𝐧𝐠𝐞𝐫🌻 (@Snozz_Wanger) September 26, 2022
You are a fascist. Just admit it.

— FedUp☮️ (@sporktongue) September 26, 2022
This you? pic.twitter.com/5tIFV8a5tm

— heftone (@heftone1) September 26, 2022
Literal fascism is back and you're celebrating?

— Jay Games (@AmousJanon) September 26, 2022
"I think Mussolini was a good politician. Everything that he did, he did for Italy. -Giorgia Meloni

Maybe, perhaps, because her party was formed by Mussolini's men & her past outspoken support for the infamous dictator is why people don't trust her.

— Della (@DMiedzin1) September 26, 2022
remember that Marjorie Taylor Greene asked for a pardon…

— Lisa Schiff 🏴‍☠️⚖😷 (@crkrjx) September 26, 2022
Yes you are a fascist

— 𝙲𝚑𝚎𝚏𝙱𝚊𝚌𝚌𝚑𝚞𝚜𝟷𝟿𝟼𝟺 (@CBacchus1964) September 26, 2022