Marjorie Taylor Greene Claims 'Act Of God' Behind Burning Man Debacle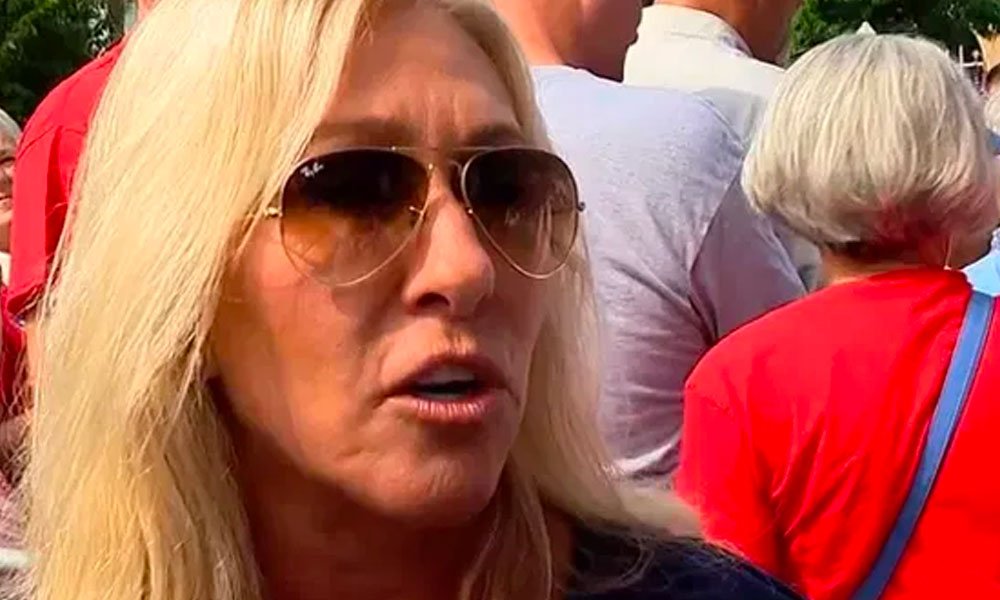 Representative Marjorie Taylor Greene has alleged that attendees of Burning Man are being manipulated into believing that the washout at the event is a result of the climate crisis, which she attributes to an act of God.
The Republican congresswoman, known for her conspiracy theories, recently appeared on Alex Jones' Info Wars show, where they both expounded on their beliefs regarding the Nevada desert festival.
"There's 73 to 75,000 in the Nevada desert right now at this Burning Man. They're locked in," Greene said. "They're not allowed to leave and they're basically probably being brainwashed that climate change is the cause of it and it's going to destroy the Earth."
She added: "And they're, they're feeling the panic. So, what's going to happen, Alex?"
The far-right lawmaker then proceeded to predict that festival-goers would return home with stories emphasizing climate change and that liberals would exploit this catastrophic event to advance their own agenda.
"It's the same thing, same way they launch any kind of movement," she said. After this is over and Burning Man and these 75,000 people dispersed and they go back home, they're gonna have these stories to tell and how terrible [it] is and how we have to do everything possible to stop climate change. It's caused by humans and it's carbon."
"It's the Left's new lie they're going to put on the American people and try to get everyone behind [it]… this is what they're brainwashing people to believe," she added.
Rather than attributing the severe flooding to climate change, Greene and Jones, who was previously ordered to pay $1.44 billion for spreading false information about the 2012 Sandy Hook mass shooting, asserted that a more divine force was at play.
"Well, you know, God has a way of making sure everyone knows who God is," Greene suggested.
Marjorie Taylor Greene just came up with a new conspiracy theory.

Talking to Alex Jones, the deranged MAGA Republican seems to suggest that the Deep States behind the floods at the Burning Man festival to "brainwash" people about climate change:

"They're locked in. They're not… pic.twitter.com/13vlsF5xcK

— Republicans against Trump (@RpsAgainstTrump) September 4, 2023
Approximately 70,000 attendees found themselves stranded at the Burning Man festival over the weekend due to unexpected heavy rainfall in the Black Rock Desert. This rainfall transformed the typically arid desert into a mud-soaked terrain, leading event organizers to close the festival entrance and instruct attendees already on-site to take shelter.
Festival-goers were urged to conserve their supplies of water, food, and fuel and to remain in place until the storm passed. On Saturday, officials reported the death of one individual at the Nevada desert festival, raising concerns about the safety of those trapped at the location.
Although rain persisted on Sunday, event organizers anticipated improved conditions on Monday and planned to open the site to allow attendees to depart sometime during the day.
"We will be opening for Exodus on Monday morning, 9/4. We will notify the community as soon as we make the decision by 9 am," read a statement from Burning Man on Sunday evening.
The festival also intends to proceed with its iconic effigy burn, which had been postponed due to severe rain and flooding.
"The Man burn will not happen tonight, Sunday, it is now scheduled for Monday 9/4, at 9pm," the festival said in an update on Sunday evening.
Greene is not the only individual to seize upon the tumultuous event to propagate conspiracy theories. The incident has also given rise to a proliferation of baseless and debunked online theories, including false claims of an Ebola outbreak.